Sunday, May 8, 2016
[jbox color="white"][mp3t track="2016-05-08-br-shankara-centering-prayer.mp3″ play="Listen Now -" stop="Pause -" title=""Centering Prayer" – Br. Shankara"]
Or
download
the MP3 to your computer, and listen offline.
To move forward/backward through the talk, slide the gray bar that appears once audio is playing.
[/jbox]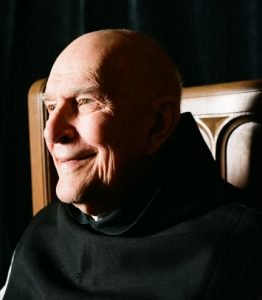 May is a month for study of Bhakti Yoga—the devotional or heart-centered path to a relationship with God. Those who follow this path becomes lovers of God—bhaktas, or devotees. One of the ways this love of God takes root in their hearts is prayer.
Centering prayer is a method of contemplative prayer or Christian meditation, which places a strong emphasis on interior silence.
Scholars see its beginnings in the spiritual practices of early Christian monastics — the Desert Fathers and Mothers. It's also found in the Lectio Divina tradition of Benedictine monasticism, in books like The Cloud of Unknowing, and the writings of St. Teresa of Avila and St. John of the Cross.
Centering Prayer as it is practiced today began with books published in the 1970s by three Trappist monks of St. Joseph's Abbey in Spencer, Massachusetts: Fr. William Meninger, Fr. M. Basil Pennington, and Abbot Thomas Keating.
In this talk we focus on the teachings of Father Thomas Keating, who has become the most widely recognized spokesperson for centering prayer.