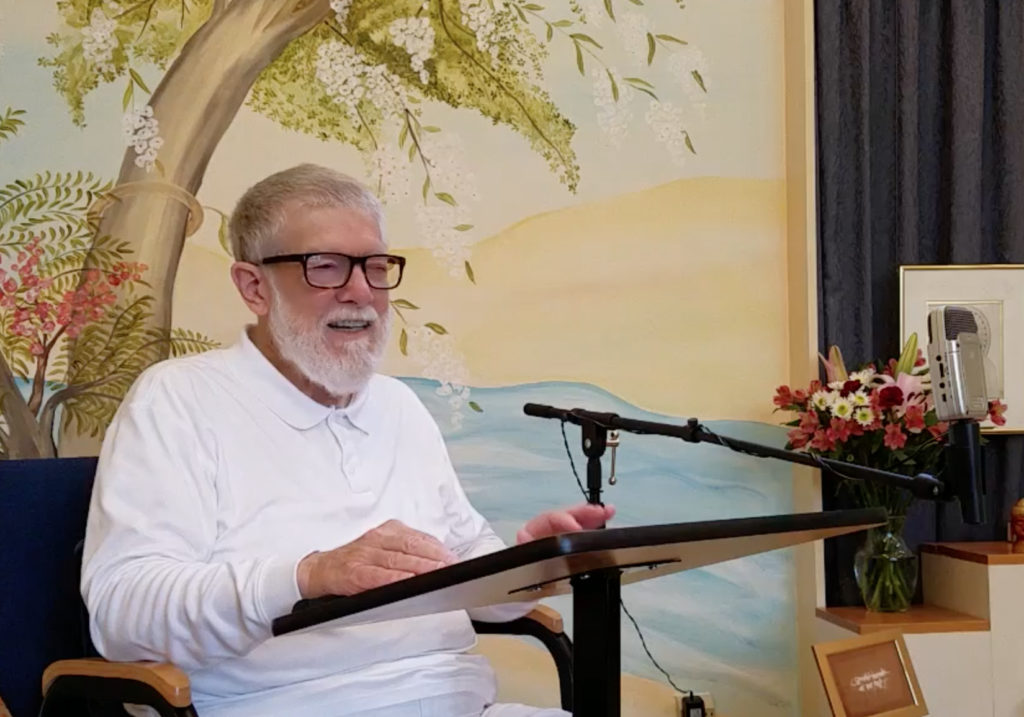 Welcome, and thanks for visiting with us.
Your time on our website is invaluable. There is a lot to look at, listen to, and discover about Ramakrishna-Vivekananda Vedanta. Yet, if you don't find what you came for,
click here
to contact our Resident Minister.
Vedanta Center of Atlanta
In the 1980s Swami Yogeshananda came to Atlanta to introduce Vedanta to the South. The word 'Vedanta' being unfamiliar to westerners, a non-profit organization was established a few years later under the name of The Eternal Quest to promote the study and practice of Vedanta. Meetings and classes were held in various rented locations. Afterwards, with the help of friends, a house was purchased in Tucker to establish a permanent center, now known as the Vedanta Center of Atlanta.
Vedanta Center of Atlanta Chapel
Our new chapel was completed in October 2006, and dedicated on January 13, 2007. In January 2009, the Vedanta Society of Southern California sent Swami Brahmavidyananda to Atlanta to carry on the work started by Swami Yogeshananda, who retired to the Trabuco Monastery in California and is now a regular speaker at the Southern California Vedanta Centers. Swami Brahmavidyananda returned to the Hollywood Center in the summer of 2010. Brother Shankara became our spiritual director and Resident Minister in August 2010. Map & Direction to our center
About Our Logo
AUM, or OM, is a syllable in Sanskrit. It is an attempt on the part of the Vedic rishis (seers) to reproduce in human sound their experience of the fundamental vibration of the energy of the universe. It has become the "name of God" and so the root mantra of all mantras, and from it has been derived a profound spiritual philosophy. In our Logo an AUM has been superimposed on a dogwood blossom, symbol of Atlanta, within a border suggesting lotus petals. Design by Larry Berryman, executed in marble by Ode Droit, photographed by Ty Butler, adapted for the web by Jay Moore.
Our Community and Spiritual Leaders
You will find us to be a welcoming, diverse and dedicated community. Together, we hold discussion groups, hold meditation sessions, bring in guest lecturers, and invite monks from other Vedanta Centers to visit us and share their wisdom. We continuously engage in our interfaith work with the Faith Alliance of Metro Atlanta and other interfaith groups. We invite you to join us at any time.
Swami Sarvadevananda
Vedanta Center of Atlanta is affiliated with the Vedanta Society of Southern California, Hollywood, which is headed by Swami Sarvadevananda. Swami Sarvadevananda is a senior monk of the Ramakrishna Order of India. Swami was initiated by Swami Shankarananda, the 7th President of the Order, in 1961. He joined the monastery at Belur Math and had the opportunity to come in contact with many monks who were initiated by Holy Mother (Sri Sarada Devi), Swami Brahmananda, Swami Shivananda, and other direct disciples of Ramakrishna. Swami became the head of the Ramakrishna Mission of Sikra in 1988, and in 1993, Swami Sarvadevananda was posted to the Vedanta Society of Southern California in Hollywood where he served as assistant minister until 2012. When his predecessor, Swami Swahananda, passed away in October, 2012, he became the minister and spiritual leader of the Vedanta Society of Southern California.
Br. Shankara
Brother Shankara is the spiritual director and Resident Minister of the Center. Swami Prabhavananda accepted Gary Kemper as a disciple in 1973 and gave him the name Shankara in 1975. Swami Swahananda initiated Br. Shankara in 1977. For the next 33 years Shankara continued his life as a householder and served the Swami and the Vedanta Society of Southern California in various capacities, including Secretary of the Board of Trustees. He received Brahmacharya vows after his wife of 48 years died in November 2009. In June 2010, Swami Swahananda appointed Br. Shankara as Resident Minister of the Vedanta Center of Atlanta. He began serving here in August of 2010. Previously, under Swami Swahananda's direction, Br. Shankara assisted in founding the Vedanta Center of Greater Washington, DC; Vivekananda Retreat Ridgely; and Ramakrishna Vedanta Ashramas in Phoenix AZ, Pittsburgh PA, and Raleigh NC. He also helped establish several non-profit religious organizations, including American Service to India, and the Ramakrishna Foundation.
Vedanta Center of Atlanta 2020-21 Board of Trustees
Shailesh Pawar, President
Pranab Lahiri, Vice President
Navin Tyagi, Treasurer
Sujatha Dhanabalan, Secretary
Tom Couch
Cyndi Craven
Nina Guzzetta
Balakrishna Nuli
Elizabeth Yates
Our Center's board of trustees are elected by the general body during our annual general meeting. The board is responsible for all material operations and finances of the Center, which is a non-profit and tax-exempt entity.