Sunday, April 6, 2014
[jbox color="white"][mp3t track="2014-04-06-shankara-meditation-and-knowledge.mp3″ play="Listen Now -" stop="Pause -" title=""Meditation and Knowledge" – Br. Shankara"]
Or
download
the MP3 to your computer, and listen offline.
To move forward/backward through the talk, slide the gray bar that appears once audio is playing.
[/jbox]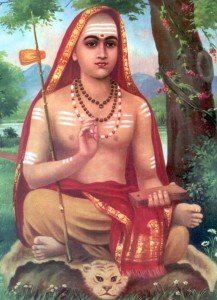 Sri Krishna, Adi Shankaracharya, Chaitanya Mahaprabhu, Sri Ramakrishna, and Sri Sarada Devi all taught that the practice of meditation can help us realize Absolute Truth, or Reality. Each had his/her own prescriptions for what to do and how to do it. This talk by Br. Shankara identifies and explores what their teachings, offered over thousands of years, had in common.