Friday, January 11, 2012
[jbox color="white"][mp3t track="2013-01-11-Brahmaprana-InTheFootstepsOfVivekananda.mp3″ play="Listen Now -" stop="Pause -" title=""In the Footsteps of Vivekananda" – Pravrajika Brahmaprana"]
Or
download
the MP3 to your computer, and listen offline.
[/jbox]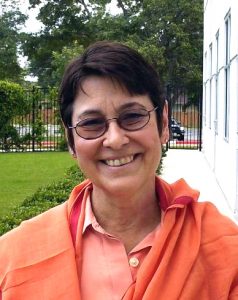 Swami Vivekananda had a specific message for the West, and this is the topic of Pravrajika Brahmaprana's Sunday lecture. We also recorded this, Brahmaprana's talk accompanying the visual presentation she gave on Friday evening, "In the Footsteps of Vivekananda," which even without the visuals we believe you will find colorful and illuminating!
Brahmaprana is the resident minister at the Ramakrishna Vedanta Society of North Texas, based in Dallas. She is the first guest speaker in our year-long celebration of the 150th anniversary of Swamiji's birth.