Sunday, February 15, 2015
[jbox color="white"][mp3t track="2015-02-15-swami-kripamayananda-human-and-divine-love.mp3″ play="Listen Now -" stop="Pause -" title=""Human and Divine Love" – Swami Kripamayananda"]
Or
download
the MP3 to your computer, and listen offline.
To move forward/backward through the talk, slide the gray bar that appears once audio is playing.
[/jbox]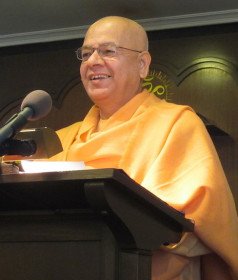 Om asato ma sat gamaya …
Om Lead us from Thy lesser truth to Thy highest Truth …
As Swami Vivekananda (Swamiji) pointed out, spiritual seekers do not progress from untruth to truth; instead, we move from lower forms of truth to realization of of the highest ideal. Therefore, with regard to love, he said, "All … is the manifestation of that One Love, more or less expressed."
Human love is a lesser expression. As Swamiji said, "(It) is seen to flourish only in places where it is returned; where love is not returned for love, cold indifference is the natural result …
"In the highest love, union is only of the spirit. All love of any other kind is quickly evanescent. Only the spiritual lasts, and this grows …
"Let nothing stand between God and your love for Him. Love Him, love Him, love Him; and let the world say what it will. Love is of three sorts — one demands, but gives nothing; the second is exchange; and the third is love without thought of return — love like that of the moth for the light."
Swami Kripamayananda develops and expands on these ideas, this Sunday morning talk.
—
Love's Shining Peace by Cyndi Craven (lyrics to the featured song)