Sunday, November 8th, 2015
[jbox color="white"][mp3t track="2015-11-08-br-shankara-hold-your-horses.mp3″ play="Listen Now -" stop="Pause -" title=""Hold Your Horses!" – Br. Shankara"]
Or
download
the MP3 to your computer, and listen offline.
To move forward/backward through the talk, slide the gray bar that appears once audio is playing.
[/jbox]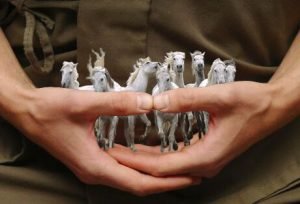 November is a month for study of Raja Yoga, a spiritual path of self-control, meditation, and liberation. Progress on this path relies on your ability to live in the world but be not of the world.
Patanjali's Yoga Sutras refer to this as non-attachment (or detachment). This Sunday we'll define and analyze detachment. In the Katha Upanishad we read: "Know the Self as Lord of the chariot, the body as the chariot itself, the discriminating intellect as the charioteer, and the mind as the reins. The senses, say the wise, are the horses; selfish desires are the roads they travel."
Spiritual liberation is freedom from all limitation. Those restless horses — our outgoing senses — are all too ready to run after the world's attractions. They keep us on the roads of selfish desires, our greatest limitations.
Raja Yoga teaches us how to use the mind to hold those horses in check. On Sunday morning, Br. Shankara will explore detachment and how it helps enable you to study your mind's deepest levels.