Sunday, September 20, 2015
[jbox color="white"][mp3t track="2015-09-20-julie-hliboki-breathing-light.mp3″ play="Listen Now -" stop="Pause -" title=""Breathing Light" – Julie Hliboki"]
Or
download
the MP3 to your computer, and listen offline.
To move forward/backward through the talk, slide the gray bar that appears once audio is playing.
[/jbox]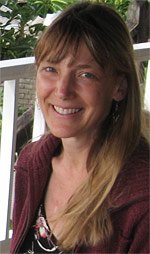 Julie Hliboki, DMin, MA, speaks on her book "Breathing Light." Julie is passionate about fostering engaged compassion. She writes books and articles on this topic, and creates and facilitates innovative, inviting programs that inspire deep engagement. In the role of a Quaker interfaith chaplain, Julie accompanies people into the richness of life and death. She invites cultivating the sacred, compassionate moments that remind us of our true nature.
Breathing Light is written for everyone who has experienced loss or grief. The book takes you on an inspirational journey, beginning with Julie's poems and prose that convey how love, gratitude, and compassion arise over and over again in the midst of suffering.