Sunday, January 10, 2016
[jbox color="white"][mp3t track="2016-01-10-br-shankara-sri-ramakrishnas-non-dual-bhakti.mp3″ play="Listen Now -" stop="Pause -" title=""Sri Ramakrishna's Non-Dual Bhakti" – Br. Shankara"]
Or
download
the MP3 to your computer, and listen offline.
To move forward/backward through the talk, slide the gray bar that appears once audio is playing.
[/jbox]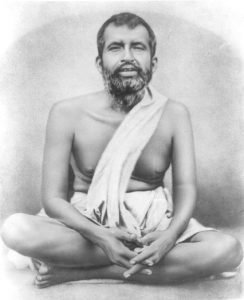 Sri Ramakrishna said, "…the bhaktas accept all the states of consciousness. They take the waking state to be real also. They don't think the world to be illusory, like a dream… They say (it)… constitutes His glory. He is within us, in our hearts. Again, He is outside. The most advanced devotees say that He Himself has become all this—the twenty-four cosmic principles, the universe, and all living beings." — Gospel of Sri Ramakrishna, p. 133
This non-dual vision of bhakti yoga and other examples of the Master's path of Pure Love are discussed in this talk.