Sunday, October 30, 2016
[jbox color="white"][mp3t track="2016-10-30-br-shankara-halloween-fall-festivals.mp3″ play="Listen Now -" stop="Pause -" title=""Hallowe'en and Fall Festivals" – Br. Shankara"]
Or
download
the MP3 to your computer, and listen offline.
To move forward/backward through the talk, slide the gray bar that appears once audio is playing.
[/jbox]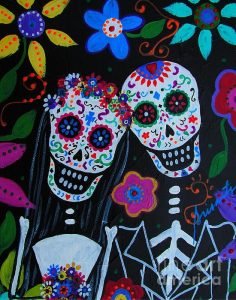 We take a journey through the ages, visiting fall festivals that celebrate the dead, and explore some lore and artistic expressions that surround the Goddess Kāli. We'll talk about Samhain, All Saints Day, All Souls Day, Hallowe'en (All Hallows Eve), Dia de Los Muertos, Divali, the Festival of the Lanterns, and identify how some of these events have a deep connection to Kāli Ma.
All Soul's Day is a primarily Roman Catholic feast day when people remember loved ones who have passed away. In Mexico, this is widely and elaborately celebrated as the Day of the Dead. In Great Britain and the U.S. we have Hallowe'en, which has roots in the ancient Celtic festival of Samhain. That night, people lit bonfires to ward off the lengthening darkness, and wore costumes to disguise themselves from roaming ghosts and goblins!
In the 8th Century CE, Pope Gregory III designated November 1 as a holiday to honor all saints and martyrs. As we'll see, All Saints' Day incorporated some of the traditions of Samhain. The evening before (October 31) became All Hallows' Eve, known to us now as Hallowe'en.