Sunday, March 27, 2016
[jbox color="white"][mp3t track="2016-03-27-br-shankara-four-yogas-as-we-know-them.mp3″ play="Listen Now -" stop="Pause -" title=""The Four Yogas As We Know Them" – Br. Shankara"]
Or
download
the MP3 to your computer, and listen offline.
To move forward/backward through the talk, slide the gray bar that appears once audio is playing.
[/jbox]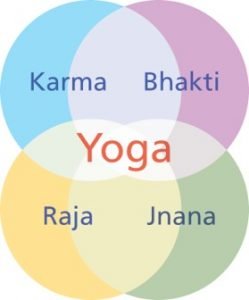 This Sunday morning talk was given on Easter — so why wasn't our topic the death and resurrection of Christ?
That's exactly what Br. Shankara explores here — in the context of spiritual practice and its goal.
The four yogas,* as we know them here, are the practical tools of Ramakrishna-Holy Mother-Vivekananda Vedanta. They can bring about the death of your ignorant ego-self and the resurrection of your Divine Consciousness — the Self. This is the inner meaning of Christ's Passion, as is discussed in this Easter morning talk.
*Bhakti, the yoga of reverence and devotion; Karma, the yoga of selfless action; Raja, the yoga that stills the mind; and Jnana, the yoga of simple existence.