Sunday, March 8, 2015
[jbox color="white"][mp3t track="2015-03-08-br-shankara-chaitanyas-prayer-a-perfect-primer.mp3″ play="Listen Now -" stop="Pause -" title=""Chaitanya's Prayer: A Perfect Primer" – Br. Shankara"]
Or
download
the MP3 to your computer, and listen offline.
To move forward/backward through the talk, slide the gray bar that appears once audio is playing.
[/jbox]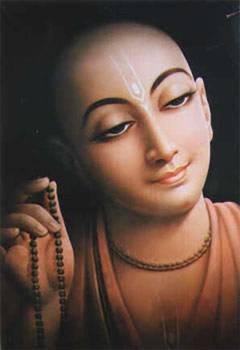 Chaitanya's Prayer, as interpreted by Swami Prabhavananda and Christopher Isherwood, is recited here every morning at Arati. This is also done in the temples, convents and monasteries of the Vedanta Society of Southern California, at Vivekananda Retreat Ridgely, and at other Vedanta centers in the U.S.
This Prayer brings Bhakti Yoga — devotional spiritual practice — and its goal and results into sharp focus in about three minutes. A primer in the truest sense of the word, Its tone and language are intense; it also can be thought of as one of the most beautiful love songs ever written.
The Prayer calls forth the heart's bliss, instructs the mind in how to overcome obstacles, and, in the voice of the spiritually awakening heart and mind, speaks lovingly and directly to the Divine within.
Br. Shankara discusses the Prayer in detail, including background on Sri Chaitanya himself and the high regard in which he was held by Sri Ramakrishna.