Sunday, June 15, 2014
[jbox color="white"][mp3t track="2014-06-15-swami-harinamananda-vedanta-refresher.mp3″ play="Listen Now -" stop="Pause -" title=""A Vedanta Refresher Course" – Swami Harinamananda"]
Or
download
the MP3 to your computer, and listen offline.
To move forward/backward through the talk, slide the gray bar that appears once audio is playing.
[/jbox]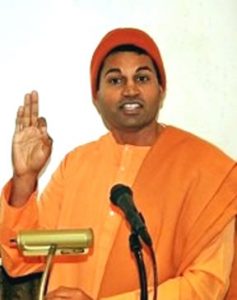 What is the Vedanta we teach and practice here? Swami Harinamananda answers these questions for us. He compares and contrasts Ramakrishna-Vivekananda Vedanta with its roots in the Vedas, Upanishads, and Puranas, and highlights what is special about our vocabulary for and ways of thinking about the purposes and practices of spiritual life. This is "RK-VK Vedanta 101," with an emphasis on the basics of our lineage.