[et_pb_section fb_built="1″ _builder_version="3.22.3″][et_pb_row custom_padding="0|0px|0|0px|false|false" _builder_version="3.22.3″ background_size="initial" background_position="top_left" background_repeat="repeat"][et_pb_column type="2_3″ _builder_version="3.0.47″][et_pb_text _builder_version="3.22.3″ background_size="initial" background_position="top_left" background_repeat="repeat"]
Talk: Self discovery. Self actualization. Self realization.
– Br. Shankara
April 7, 2019
Click for NOTES & QUOTES from the talk (PDF)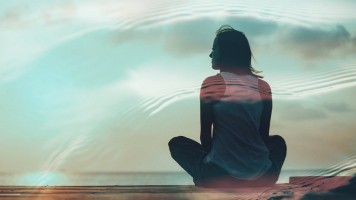 April is a month for study of Raja Yoga, a spiritual path often called the yoga of meditation. As a raja yogi, you use ancient, proven spiritual techniques to quiet your mind and gain control of your attention.
Regular daily practice of Raja Yoga increases your ability to concentrate, and may lead to meditation. This can unite you with the Divine Presence, the source of your being, and liberate you from the cycle of rebirth and death.
Self realization is one way to talk about the goal of all spiritual practices. It is the entire focus of Patanjali's Yoga Sutras. You can think of progress toward that goal in three steps:
First, self discovery: What does it means to be fully human? If you are bold, you begin to find this out during your student years, and the early part of householder life— up to about age 30. It's a time of exploration, definition, adventure. If you're blessed to be a spiritual aspirant, it is also a time of breaking through inner boundaries, learning to feel the Living Presence that animates you.
Next, self actualization: In this phase you bring the talents and attributes you have discovered, and the spiritual treasures you're finding, to ever-greater manifestation. From about age 30 to age 60 you unfold your career, and also may have a successful marriage and bring up one or more children. This is very demanding and challenging! As Sri Ramakrishna said, you are heroes!
And finally, Self realization: Sometime during that period of self actualization — after you have been practicing spiritual disciplines for a number of years — you start to realize the life you have been living is merely the surface appearance of what you are. You become aware that your outward self, no matter how accomplished or successful, is merely an expression of, and evidence for a far greater Being that lies within, who empowers all your activities, thoughts, and experiences. You begin to think of yourself as that Living Presence, and know your True Original Nature — in raja yoga, the Atman.
In this talk we discuss all this in more detail.
---
Note: There is silent meditation in the Chapel from 10:30-11am, before each Sunday's talk. After the talk, devotees and friends meet in the Monastery from noon to 1:30pm, for tea, coffee, snacks and a continuation of our spiritual fellowship.
Spiritual talks and classes are open to the public and free of charge.
[/et_pb_text][et_pb_button button_url="https://vedantacenterofatlanta.org/audio-archive-of-past-talks/" button_text="Talk Archive" button_alignment="center" admin_label="Button – Talk Archive" _builder_version="3.16.1″ custom_button="on" button_text_color="rgba(255,255,255,0.96)" button_bg_color="#9f4204″ button_border_width="4″ button_border_color="#d59952″ button_letter_spacing="1″ button_font="|700|||||||" button_icon="%%372%%" background_layout="dark" min_height="25px" custom_padding="||0px|||"][/et_pb_button][/et_pb_column][et_pb_column type="1_3″ _builder_version="3.0.47″][et_pb_sidebar area="sidebar-1″ _builder_version="3.16.1″ custom_padding="25px|||||"][/et_pb_sidebar][/et_pb_column][/et_pb_row][et_pb_row _builder_version="3.22.3″ custom_padding="||0px|||"][et_pb_column type="4_4″ _builder_version="3.22.3″][et_pb_divider show_divider="off" _builder_version="3.22.3″][/et_pb_divider][/et_pb_column][/et_pb_row][/et_pb_section]