Sunday, November 4, 2012
[jbox color="white"][mp3t track="2012-11-04-Shankara-KrishnasRajaYoga.mp3″ play="Listen Now -" stop="Pause -" title=""Sri Krishna's Raja Yoga" – Br. Shankara"]
Or
download
the MP3 to your computer, and listen offline.
[/jbox]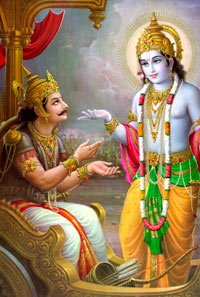 "Great in soul are they who become what is godlike:
They alone know me, the origin, the deathless:
They offer me the homage
Of an unwavering mind."
These lines are from Bhagavad Gita (Chapter IX, The Yoga of Mysticism). In this chapter, and Chapter VI — The Yoga of Meditation — Sri Krishna defines a path to Realization that came to be known as Raja Yoga. The Yoga Sutras of Patanjali, a comprehensive treatise on Raja Yoga, was written 500 to 900 years later than the time in which Bhagavad Gita was sung (Wikipedia). Patanjali formalized and codified many age-old practices of meditation and psychic control.
Lord Krishna wove His teachings on these disciplines, seamlessly, into a larger tapestry of instruction. His simple, straightforward prescriptions for a life lived without real distinction between the secular and the spiritual have made Bhagavad Gita "the Gospel of Hinduism." In this talk, Br. Shankara teases out what Krishna told Arjuna about the art and science of controlling his mind, and the rewards of making that effort."