[et_pb_section fb_built="1″ _builder_version="3.0.47″][et_pb_row _builder_version="3.0.48″ background_size="initial" background_position="top_left" background_repeat="repeat"][et_pb_column type="2_3″ _builder_version="3.0.47″ parallax="off" parallax_method="on"][et_pb_text _builder_version="3.19.12″ background_size="initial" background_position="top_left" background_repeat="repeat"]
Talk: The Equations of Maya!
– Br. Shankara
February 3, 2019
Click for NOTES & QUOTES from the talk (PDF)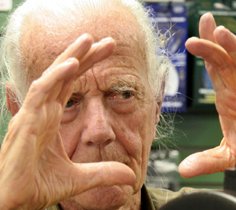 We start this month with study of Bhakti Yoga. As a bhakti yogi, you establish a devotional relationship with God through study, prayer, ritual, and worship. You practice giving every action, thought, emotion, perception and tendency "a Godward turn." All your energies and attributes, both positive and negative, are offered to the Divine Presence. Your prayer is for self-surrender, union with your Belovèd.
John Dobson — astronomer, student of human history, and Vedanta philosopher — wrote:
"Modern cosmologists usually take non-existence for granted and hope to get the Universe out of nothing. But must we assume that in the absence of the Universe and in the absence of space and time there would be nothing? Or can we, without so rash an assumption, find clues to what might remain if instead we take existence for granted but leave out space and time? Could what remains, through apparition or maya, appear as this Universe? Can we, from what remains, get a Universe of gravity, electricity and inertia?"
If you can't explain it simply, you don't understand it well enough." — Albert Einstein
Dobson was a master of explaining Advaita Vedanta simply. On Sunday morning we will explore and discuss his detailed, yet very clear descriptions of how Brahman appears to us as this Universe.
"There cannot be two existences, only one." 
— Swami Vivekananda
---
Note: There is silent meditation in the Chapel from 10:30-11am, before each Sunday's talk. After the talk, devotees and friends meet in the Monastery from noon to 1:30pm, for tea, coffee, snacks and a continuation of our spiritual fellowship. Spiritual talks and classes are open to the public and free of charge.[/et_pb_text][et_pb_button button_url="https://vedantacenterofatlanta.org/audio-archive-of-past-talks/" button_text="Talk Archive" button_alignment="center" admin_label="Button – Talk Archive" _builder_version="3.16.1″ custom_button="on" button_text_color="rgba(255,255,255,0.96)" button_bg_color="#9f4204″ button_border_width="4″ button_border_color="#d59952″ button_letter_spacing="1″ button_font="|700|||||||" button_icon="%%372%%" background_layout="dark"][/et_pb_button][/et_pb_column][et_pb_column type="1_3″ _builder_version="3.0.47″ parallax="off" parallax_method="on"][et_pb_sidebar area="sidebar-1″ _builder_version="3.16.1″][/et_pb_sidebar][/et_pb_column][/et_pb_row][/et_pb_section]