[et_pb_section fb_built="1″ _builder_version="3.0.47″][et_pb_row custom_padding="0|0px|0|0px|false|false" _builder_version="3.0.48″ background_size="initial" background_position="top_left" background_repeat="repeat"][et_pb_column type="2_3″ _builder_version="3.0.47″][et_pb_text _builder_version="3.21.1″ background_size="initial" background_position="top_left" background_repeat="repeat"]
Talk: Metaphors Be With Us
– Br. Shankara
March 24, 2019
Click for NOTES & QUOTES from the talk (PDF)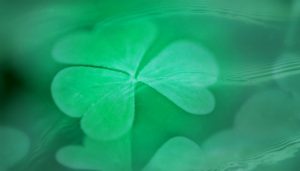 March is a month for study of Karma Yoga, a spiritual path leading to the abandonment of selfishness. As a karma yogi, you practice offering your actions and their results, as well as your perceptions, thoughts, and feelings to the Divine Presence.
Even before fully knowing this Presence, you hold firmly to the belief that the Presence is within each person or other living being that you interact with or serve. Working and abiding in this spirit, you are increasingly able to release attachment to your activities and their results. This yields the freedom and contentment promised by Karma Yoga.
"Even a little practice of this yoga will save you form the terrible wheel of rebirth and death …" — Sri Krishna, Bhagavad Gita, Ch. 2
Last Sunday many of us celebrated St. Patrick's Day. Ireland's patron saint inspired observances, from silly to the sublime, wherever we looked. Saint Patrick used the shamrock, Ireland's national symbol, as a potent metaphor for the Christian Holy Trinity. Even if your heritage is not Irish, you may have felt a wee tug at your heart when you saw that three-leaf clover offered in ceremonial joy.
It seems natural, then, to explore the idea of metaphor and how it affects the ways we think and act. As we know, our great spiritual teachers have often introduced us to life-transforming truths by telling what appear to be simple, allegorical stories and parables.
In this talk, we explore and discuss metaphorical instruction left to us by five teachers who are at the heart of our spiritual tradition: the Sage Vasistha, Sri Krishna, Jesus Christ, Patanjali, and Sri Ramakrishna.
---
Note: There is silent meditation in the Chapel from 10:30-11am, before each Sunday's talk. After the talk, devotees and friends meet in the Monastery from noon to 1:30pm, for tea, coffee, snacks and a continuation of our spiritual fellowship.
Spiritual talks and classes are open to the public and free of charge.
[/et_pb_text][et_pb_button button_url="https://vedantacenterofatlanta.org/audio-archive-of-past-talks/" button_text="Talk Archive" button_alignment="center" admin_label="Button – Talk Archive" _builder_version="3.16.1″ custom_button="on" button_text_color="rgba(255,255,255,0.96)" button_bg_color="#9f4204″ button_border_width="4″ button_border_color="#d59952″ button_letter_spacing="1″ button_font="|700|||||||" button_icon="%%372%%" background_layout="dark"][/et_pb_button][/et_pb_column][et_pb_column type="1_3″ _builder_version="3.0.47″][et_pb_sidebar area="sidebar-1″ _builder_version="3.16.1″][/et_pb_sidebar][/et_pb_column][/et_pb_row][/et_pb_section]