[et_pb_section fb_built="1″ _builder_version="3.0.47″][et_pb_row _builder_version="3.0.48″ background_size="initial" background_position="top_left" background_repeat="repeat" custom_padding="0|0px|0|0px|false|false"][et_pb_column type="2_3″ _builder_version="3.0.47″][et_pb_text _builder_version="3.19.18″ background_size="initial" background_position="top_left" background_repeat="repeat"]
Talk: Chaitanya's Prayer: The Perfect Primer
– Br. Shankara
February 24, 2019
Click for NOTES & QUOTES from the talk (PDF)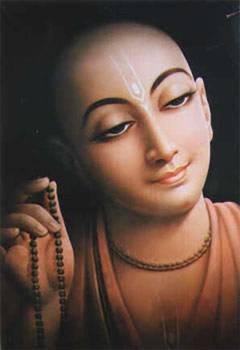 February is a month for study of Bhakti Yoga. A bhakti yogi (bhakta) establishes a devotional relationship with God through study, prayer, ritual, and worship. As a bhakta, you practice giving every action, thought, emotion, perception and tendency "a Godward turn." All your energies and attributes, both positive and negative, are offered to the Divine Presence. Your prayer is for self-surrender and, ultimately, union with your Belovèd.
Chaitanya's Prayer, as interpreted by Swami Prabhavananda and Christopher Isherwood, is recited here during morning Arati. It is also heard in the temples, convents, and monasteries of the Vedanta Society of Southern California, at Vivekananda Retreat Ridgely, and other Vedanta centers in the U.S.
This prayer brings the practice, goal, and results of chanting the Divine name into sharp focus in about three minutes. It is therefore a primer in the truest sense of the word. The prayer's tone and language are intense; it can be thought of as one of the most beautiful love songs ever written.
Chaitanya calls forth the heart's bliss, instructs the mind in how to overcome obstacles, and, in the voice of a spiritually awakening heart and soul, speaks lovingly and directly to the Divine within.
Br. Shankara explores the prayer and its teachings in detail. This includes some discussion of Sri Chaitanya himself, and the high regard in which the saint was held by Sri Ramakrishna and Holy Mother.
---
Note: There is silent meditation in the Chapel from 10:30-11am, before each Sunday's talk. After the talk, devotees and friends meet in the Monastery from noon to 1:30pm, for tea, coffee, snacks and a continuation of our spiritual fellowship.
Spiritual talks and classes are open to the public and free of charge.
[/et_pb_text][et_pb_button button_url="https://vedantacenterofatlanta.org/audio-archive-of-past-talks/" button_text="Talk Archive" button_alignment="center" admin_label="Button – Talk Archive" _builder_version="3.16.1″ custom_button="on" button_text_color="rgba(255,255,255,0.96)" button_bg_color="#9f4204″ button_border_width="4″ button_border_color="#d59952″ button_letter_spacing="1″ button_font="|700|||||||" button_icon="%%372%%" background_layout="dark"][/et_pb_button][/et_pb_column][et_pb_column type="1_3″ _builder_version="3.0.47″][et_pb_sidebar area="sidebar-1″ _builder_version="3.16.1″][/et_pb_sidebar][/et_pb_column][/et_pb_row][/et_pb_section]