Sunday, January 13, 2013 (in San Diego)
[jbox color="white"][mp3t track="2013-01-13-Shankara-SanDiego-SriChaitanyasPrayer.mp3″ play="Listen Now -" stop="Pause -" title=""Sri Chaitanya's Prayer" – Br. Shankara"]
Or
download
the MP3 to your computer, and listen offline.
[/jbox]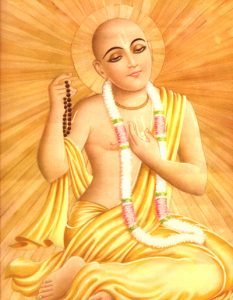 At the request of Swami Harinamananda, Resident Minister, Br. Shankara spoke at the San Diego, CA Vedanta Monastery on January 13. His topic was Chaitanya's Prayer.
Chaitanya's Prayer (interpreted by Swami Prabhavananda and Christopher Isherwood) is recited every morning in temples, convents and monasteries of the Vedanta Society of Southern California, and other Vedanta centers in the U.S.
The Prayer brings Bhakti — devotional spiritual practice — and its goal or result into sharp focus in about three minutes. Its tone and language are intense — it can be thought of as one of the most beautiful love songs ever written. Sri Chaitanya calls forth the heart's bliss, instructs the mind in how to overcome obstacles, and, in the voice of the spiritually awakening heart and mind, speaks lovingly and directly to the Divine within.