Sunday, March 1, 2015
[jbox color="white"][mp3t track="2015-03-01-rabbi-yoel-glick-building-the-temple-of-the-heart.mp3″ play="Listen Now -" stop="Pause -" title=""Building the Temple of the Heart:
The Three Pillars of the Spiritual Life" – Rabbi Yoel Glick"]
Or
download
the MP3 to your computer, and listen offline.
To move forward/backward through the talk, slide the gray bar that appears once audio is playing.
[/jbox]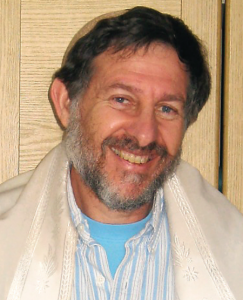 In the Hebrew Bible, God commands Israel: "Make me a sanctuary and I shall dwell in your midst." The Baal Shem teaches that each of us is a living temple. The rabbis set out the three pillars of this inner Temple: Torah (study of spiritual wisdom), Avodah (Worship) and Gimilut Hasadim (Acts of Loving-kindness). These three pillars correspond to the three Yogas of Hinduism: Jnana yoga, Bhakti yoga, and Karma yoga. They can also be defined as the expansion of our consciousness, the constant remembrance of God, and the inner work of self-transformation. In this talk and experiential workshop, we explore how to use these three paths to build a sacred space inside us where the Divine Presence dwells.
The rabbi spoke with us earlier the same day on "Seeking the Living Presence of God: The Story of My Spiritual Journey" which you can listen to here.