Sunday, April 19, 2015
"Swami Vivekananda and Mahatma Gandhi:
Truth is One, Paths are Diverse" – Uma Majmudar
Or
download
the MP3 to your computer, and listen offline.
To move forward/backward through the talk, slide the gray bar that appears once audio is playing.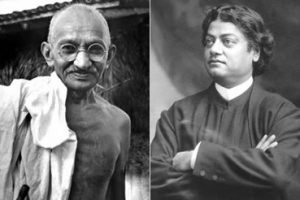 Swami Vivekananda and Mahatma Gandhi were two great sons of Mother India and also contemporaries; Vivekananda was a Jnanayogi, whereas Gandhi, was a Karmayogi.
Though their personalities and paths differed, they were brothers in spirit with a similar mission to realize God as Truth. Both yearned to see God in the faces of the poor and believed in serving the poor as "Daridra-Narayana" (daridra: poor, and Narayana: God).
In this talk we examine their backgrounds, their religious views and their supreme contribution to the humanity-at-large.