Sunday, November 9, 2012
[jbox color="white"][mp3t track="2012-12-09-Shankara-VedantaInTheWestEarlyTeachersOfThePathOfKnowledge.mp3″ play="Listen Now -" stop="Pause -" title=""Vedanta in the West –
Early Teachers of the Path of Knowledge" – Br. Shankara"]
Or
download
the MP3 to your computer, and listen offline.
[/jbox]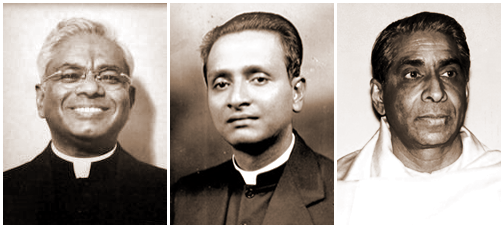 Swami Vivekananda once said, "I am an jnani on the outside and a bhakta on the inside, but Sri Ramakrishna was a bhakta on the outside and a jnani on the inside."
Both great sadhana margas — the Path of Knowledge (jnana) and the Path of Devotion (bhakti) — were fully realized in Ramakrishna and Vivekananda, his spokesperson to the West. Yet, when Vivekananda taught here, his primary emphasis was on the philosophy of nonduality — jnana or Advaita.
The main reason for this was the audiences he spoke to, among which were many intellectuals and followers of the late 19th Century's "New Thought" movement. Vivekananda knew these women and men were fed up with dogmas, doctrines, and sanctimonious piety. So, he often gave them instead a bracing dose of uncompromising Vedanta.
Several of the teachers who followed him to the West — Ramakrishna Order swamis who established Vedanta Societies on this nation's East and West Coasts — took their cue from Vivekananda and taught the Path of Knowledge. Brother Shankara talks about three of these — Ashokananda, Nikhilananda, and Sarvagatananda — who they were and what they offered to us.