Sunday, September 21, 2014
[jbox color="white"][mp3t track="2014-09-21-uma-majmudar-who-is-shri-krishna.mp3″ play="Listen Now -" stop="Pause -" title=""Who is Shri Krishna!?" – Dr. Uma Majmudar"]
Or
download
the MP3 to your computer, and listen offline.
To move forward/backward through the talk, slide the gray bar that appears once audio is playing.
[/jbox]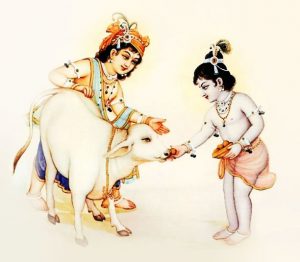 There is much more to Shri Krishna than meets the eye, more than what most of us know about him in and through the study of the Bhagavad Gita.
In this talk, we get acquainted with many other facets, roles, personalities, representations, and influences of Shri Krishna as depicted in the Bhagavata Purana — an ancient scripture soaked in the Vaishnava Bhakti tradition of worshipping Krishna as "Purna Purushottama" or the most complete incarnation of Lord Vishnu.
This is not the mature adult, friend/philosopher, teacher/adviser Krishna of the Bhagavad Gita, nor is this the wise and suave statesman, even the cunning game-changer Krishna of the epic Mahabharata. Here, in Shrimad Bhagavatam, Krishna has no specific mission or an agenda. Here, simply, we see God at play! We see him as Bala-Krishna, a mischievous but irresistibly charming child who allows himself to be punished, to be scolded, to be pampered and adored by mother Yashoda in the village of Gokul. We also see Shri Krishna as a shepherd boy, stealing the hearts of the gopis- or the shepherd girls, Krishna playing flute and leading the "rasa-lila" (divine dancing in circle) with all the gopis, but particularly dancing away the whole night with one particular gopi–his most beloved Radharani, his wife-to-be and his soulmate!
With the divine illusory power of YOGAMAYA, Krishna is able to accomplish many astonishing things. Let us meet Shri Krishna of the Bhagavatam, Krishna who is uniquely etched in people's consciousness, Krishna who is the most adored and accessible god of all gods in the Indian folklore, Indian art, literature, temple sculpture, music, poetry, drama all over India and even outside.