Sunday, June 4, 2017
[jbox color="white"][mp3t track="2017-06-04-br-shankara-metaphors-be-with-us-2.mp3″ play="Listen Now -" stop="Pause -" title=""Metaphors Be With Us" – Br. Shankara"]
Or
download
the MP3 to your computer, and listen offline.
To move forward/backward through the talk, slide the gray bar that appears once audio is playing.
[/jbox]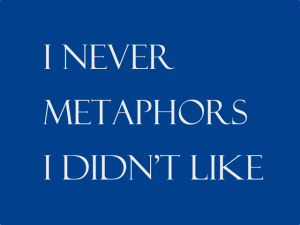 June is a month for study of Karma Yoga, a spiritual path leading to the abandonment of selfishness. As a karma yogi, you practice offering your thoughts, actions, and perceptions to the Divine Presence. Even before fully knowing this Presence, you hold firmly to the belief that the Presence is within each person or other living being that you interact with or serve. Working and abiding in this spirit, you are increasingly able to release attachment to your activities and their results. This is the freedom promised by Karma Yoga.
On Monday we celebrated Memorial Day. Our national flag was on display just about everywhere we looked. The Stars & Stripes is a potent metaphor. We might have felt a meaningful connection to our country's history, and a tug at our hearts, when we saw it — especially when it was "presented" in a ceremonial way.
So, it seems fitting to explore the idea of metaphor and how it affects the ways we think and act. As we know, our great spiritual teachers have often introduced us to life-transforming truths by telling what appear to be simple, allegorical stories and parables.
In this talk we explore and discuss metaphors left to us by five teachers that are at the heart of our spiritual lineage: the Sage Vasistha, Sri Krishna, Jesu Christ, Patanjali, and Sri Ramakrishna.