Sunday, April 3, 2016
[jbox color="white"][mp3t track="2016-04-03-br-shankara-jnanis-method-of-meditation.mp3″ play="Listen Now -" stop="Pause -" title=""The Jnani's Method of Meditation" – Br. Shankara"]
Or
download
the MP3 to your computer, and listen offline.
To move forward/backward through the talk, slide the gray bar that appears once audio is playing.
[/jbox]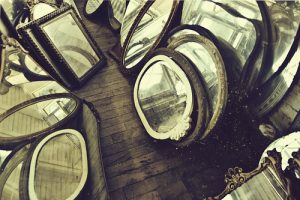 Over time, the jnana yogi systematically sets aside the mirror that reflects everyday reality onto his or her consciousness. In its place, a jnani focuses on scriptural truths, such as: Sarvam Khalvidam Brahma, meaning All this is verily Brahman (Chandogya Upanisad, 3.14.1), and Tat tvam asi — That thou art. (Chandogya Upanisad, 6.8.7).
That is a demanding transformation. Teachers of the jnana path offer their students this technique — shravana, manana and nididhyasana (listening or reading; contemplation and assimilation; and meditation). In this talk, we explore and discuss how jnanis use this method to achieve Self-realization.