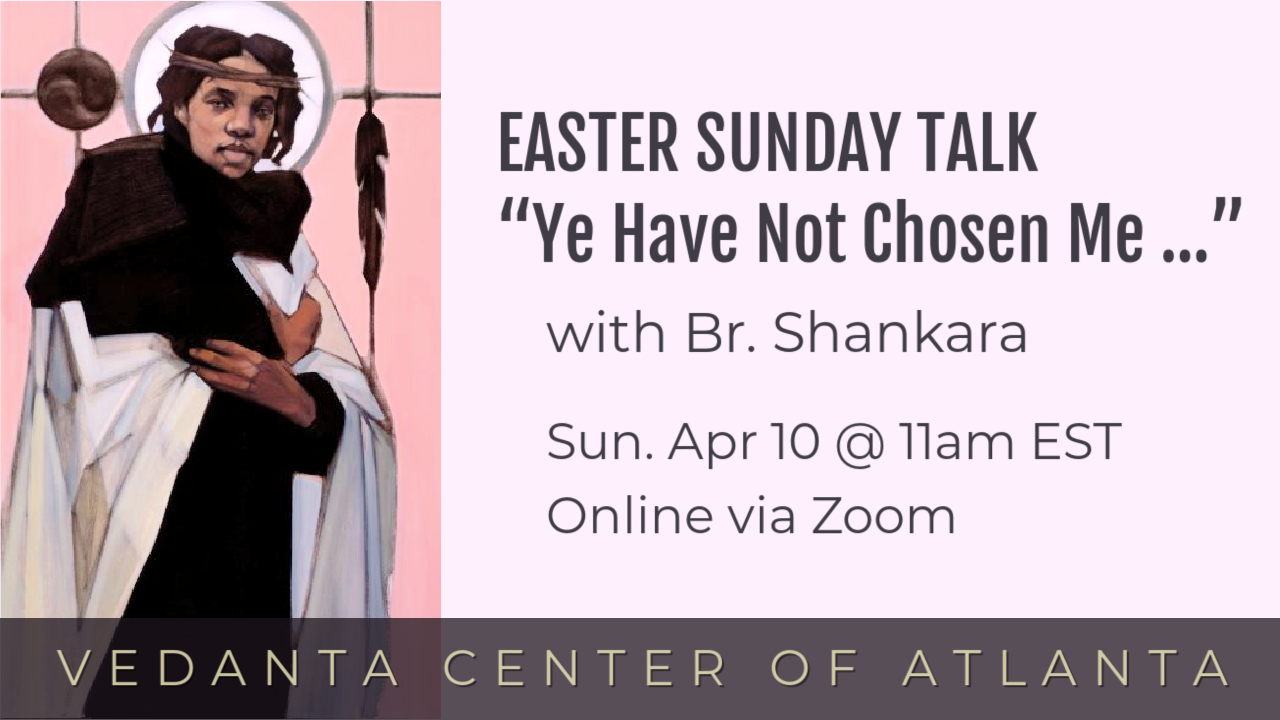 11am Sunday Talk: "Ye Have Not Chosen Me …" with Br. Shankara
Click here to join us via Zoom and participate in the discussion!
On Easter Sunday morning, April 10th at 11am, Br. Shankara will give a talk entitled "Ye Have Not Chosen Me …"
April is a month for study of Raja Yoga, a spiritual path often called the yoga of meditation. As a raja yogi, you use ancient, proven spiritual techniques to calm your body, quiet your mind, and gain control of your attention.
Regular daily practice of Raja Yoga increases your ability to concentrate, and may lead to meditation. This can unite you with the Divine Presence, the source of your being, and free you from the cycle of rebirth and death. As spoken of by the raja yogi, this state of complete liberation from the gunas' influence is called kaivalya — independence.
John 15:16
"Ye have not chosen me, but I have chosen you, and ordained you, that ye should go and bring forth fruit, and that your fruit should remain: that whatsoever ye shall ask of the Father in my name, he may give it you."
Acts 9 
"And Saul, yet breathing out threatenings and slaughter against the disciples of the Lord, went unto the high priest,
2 And desired of him letters to Damascus to the synagogues, that if he found any of this way, whether they were men or women, he might bring them bound unto Jerusalem.
3 And as he journeyed, he came near Damascus: and suddenly there shined round about him a light from heaven:
4 And he fell to the earth, and heard a voice saying unto him, 'Saul, Saul, why persecutest thou me?'
5 And he said, 'Who art thou, Lord? And the Lord said, I am Jesus whom thou persecutest: it is hard for thee to kick against the pricks.'
6 And he trembling and astonished said, 'Lord, what wilt thou have me to do? And the Lord said unto him, Arise, and go into the city, and it shall be told thee what thou must do.'
7 And the men which journeyed with him stood speechless, hearing a voice, but seeing no man.
8 And Saul arose from the earth; and when his eyes were opened, he saw no man: but they led him by the hand, and brought him into Damascus."
Saul of Tarsus became St. Paul.
John 21:17
"Jesus saith unto him the third time, Simon, son of Jonas, Lovest thou me? Peter was grieved because he (asked) him the third time, Lovest thou me? And he (answered) him, Lord, thou knowest all things; thou knowest that I love thee. Jesus saith unto him, Feed my sheep."
Simon, son of Jonas, became St. Peter.
— Quotes are from the King James Bible
Sri Ramakrishna said that all things, including the dawn of your desire for liberation from the limitations of human form, happen at precisely the right time. He also said, without qualification, that is the Divine Mother who awakens this desire in us.
Logically, it follows that, since you are reading this message, She has chosen you. We will discuss the quotes above, and your response to the idea that you are chosen, on Easter Sunday morning.