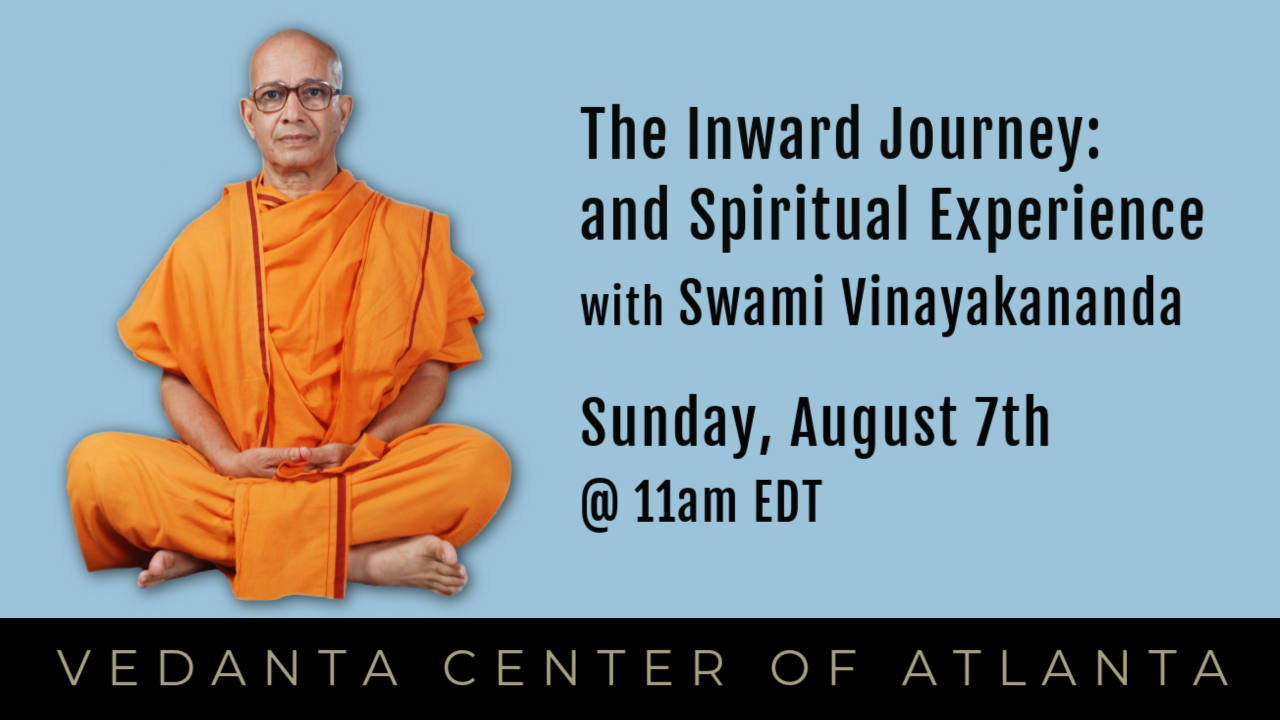 Sunday Talk: The Inward Journey: and Spiritual Experience, with Swami Vinayakananda
No in-person attendance Sunday, 8/7
---
Join us via Zoom by clicking here.
This Sunday at 11am, Swami Vinayakananda will give a talk online entitled "The Inward journey: and, Spiritual experience." 
Swami Vinayakananda-ji was born in 1951 and raised in Bangalore, India by pious Hindu parents.
Swami says, "I was … born Hindu because It includes all religions and is the repository of all religious and spiritual thoughts." His childhood and early youth was spent in this divine atmosphere. He says, "By the final year of my (education), I came to know the meaning and purpose of human life …" (Bachelor's in Science, 1971)
At that time he had already decided to renounce worldly pursuits and take to monastic life with the twin ideal of Swami Vivekananda — 'Atmano Mokshartam' and 'Jagad hitaya' (for your own liberation and for the good of humankind).
However, family circumstances required his loving services until 1976, when he took Mantra Diksha from Srimad Swami Vireshwaranandaji, the 10th President of the Ramakrishna Order. He joined the Ramakrishna Math and Mission in 1977 at their Bangalore Centre.
Under the guidance of great stalwarts of the Order, he has served in various capacities in different parts of India. He took Sannyas from the Order's 11th President, Srimad Swami Gambhiranandaji, in 1987.