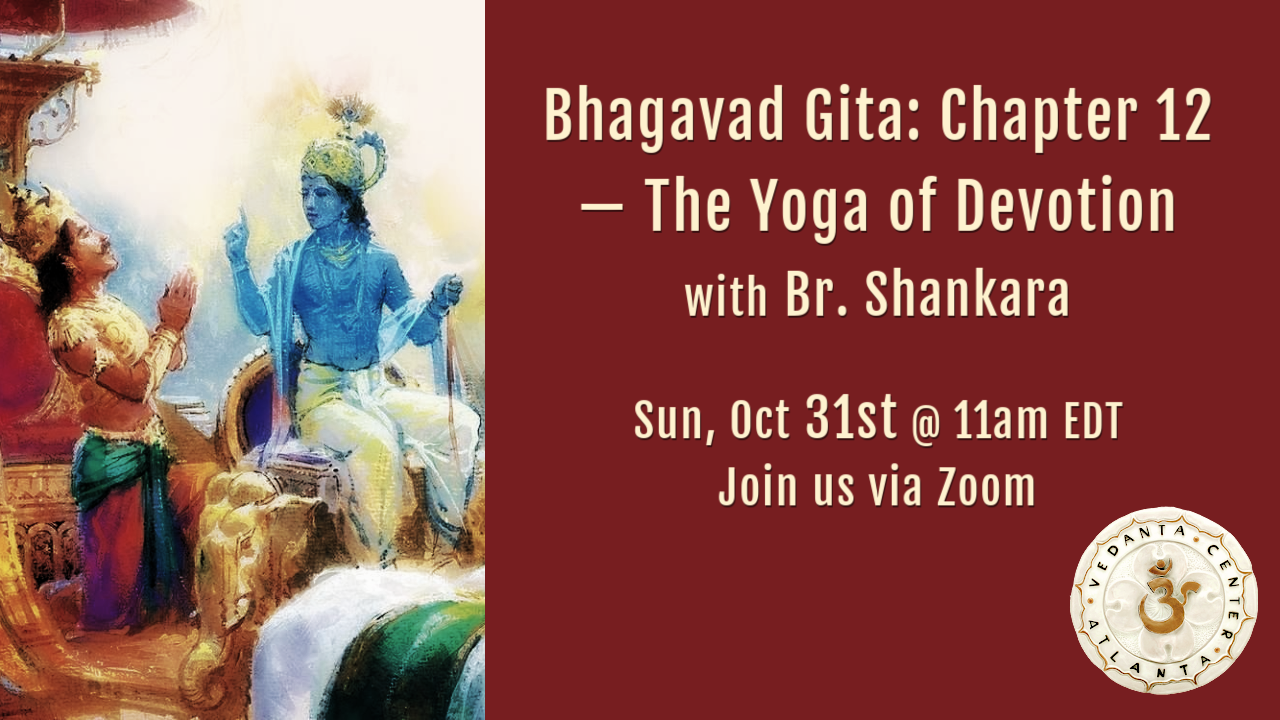 11am Sunday Talk: Bhagavad Gita: Chapter 12 — The Yoga of Devotion, with Br. Shankara
 ~ Join via Zoom at https://tinyurl.com/y7veshzt ~
On Sunday morning, Oct. 31st at 11am, Br. Shankara will give a talk on Bhagavad Gita: Chapter 12 — The Yoga of Devotion. Join us online (no in-person activities at this time) and participate in the discussion!
October has been a month for study of Bhakti Yoga. A bhakti yogi (bhakta) has a devotional relationship with God. This is developed over time by study, prayer, ritual, and worship. As a mature bhakta, you may enjoy seeing everything in the universe as the work and glory of your Divine Belovèd. This includes yourself, and so you give every action, thought, emotion, perception and tendency "a Godward turn." Your prayer is for the carefree self-surrender of a child in its Mother or Father's arms and, ultimately, union with your Belovèd. 
Arjuna is warrior-chief of the Pandava clan, and a disciple of Sri Krishna. They are also close friends and comrades-at-arms. Krishna reveals the truth of his Being when he tells Arjuna,  "I am the birthless, the deathless … In every age I come back to deliver the holy, to destroy the sin of the sinner, to establish righteousness …" He then describes His Divine manifestations and attributes, and concludes, "Whatever in this world is powerful, beautiful or glorious, that you may know to have come from a fraction of my power and glory."
This leads to Arjuna's question, which opens Chapter 12 of the Gita: "Some worship you with steadfast love. Others worship God the unmanifest and changeless. Which kind of devotee has the greater understanding of yoga?"
Sri Krishna's straightforward answer is the subject of this Sunday's talk.