Sunday, May 1, 2016
[jbox color="white"][mp3t track="2016-05-01-br-shankara-the-bhaktas-method-of-meditation.mp3″ play="Listen Now -" stop="Pause -" title=""The Bhakta's Method of Meditation" – Br. Shankara"]
Or
download
the MP3 to your computer, and listen offline.
To move forward/backward through the talk, slide the gray bar that appears once audio is playing.
[/jbox]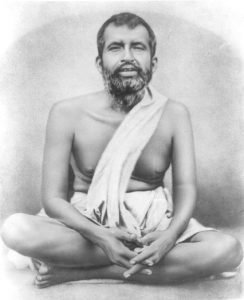 Bhakti yoga is the devotional path to God—or Self-Realization. One who follows this path is a lover of God—a bhakta, or devotee.
Sri Ramakrishna said, "…You should remember that the heart of the devotee is the abode of God. He dwells, no doubt, in all beings, but He especially manifests Himself in the heart of the devotee. … The heart of the devotee is the 'drawing-room' of God.
"… Bhaktas accept all the states of consciousness (waking, dreaming, and dreamless sleep). … They say that the universe is a manifestation of God's power and glory. … He is within us, in our hearts. Again, He is outside.
"Do you know how a lover of God feels? His attitude is: 'O God, Thou are the Master, and I am Thy servant. Thou art the Mother, and I am Thy child.' Or again: 'Thou art my Father and Mother. Thou art the Whole, and I am a part.'" —from the Gospel of Sri Ramakrishna, Ch. 5
Typically, a bhakta's method of meditation will center on one of these relationships to God.
In this talk, we explore how this heartfelt relationship begins, and how — through meditation and other spiritual practices — it matures into a deeply God-centered way of life.