Welcome to the Vedanta Center of Atlanta
We study Hinduism and Vedanta as taught by Sri Ramakrishna, Sri Sarada Devi, Swami Vivekananda, and Swami Brahmananda. Classes, talks, worship, meditation, fellowship, and special events throughout the year. All are welcome.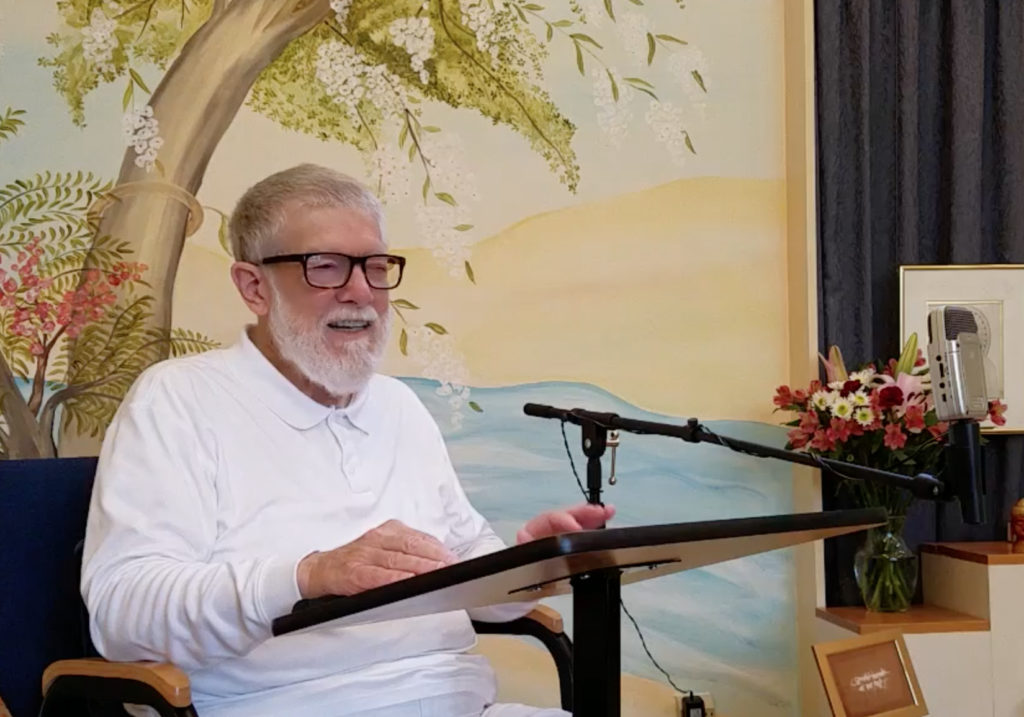 Thanks for visiting with us.
There is a lot to look at, listen to, and discover about Ramakrishna-Vivekananda Vedanta and this Center. Yet, if you don't find what you came for, click here to contact Br. Shankara, our Resident Minister.
New Wednesday Class
On June 8th we began reading and discussing Swami Ranganathananda's Divine Grace. The book is available in the Center's Bookshop; you can purchase the Kindle app version here.
July 4th Celebration
We will celebrate July 4th — a Monday this year — starting with Arati at 7pm in our Chapel. This will be followed by a short talk about Swami Vivekananda, then by short readings and songs from congregation members. All of this will be available on Zoom, using our regular evening Arati link. Sometime between 8 and 8:30, we will move to the monastery, where our traditional July 4th potluck meal will be shared. The Zoom link will close at this time. Our potluck supper will wind up at dusk, when we'll go to the parking lot for some fun with fireworks.
August Summer Break
Your Center will be closed during August: there will be no classes and no Sunday talks. Evening Arati will continue as usual, and the Chandi hymns will be chanted in Sanskrit and in English; these three activities will be on Zoom only.
June 20 – 26
Use the Zoom link to log into the class; no password need.
Monday, 6/20
Tuesday, 6/21
Wednesday, 6/22
Thursday, 6/23
Friday, 6/24
Saturday, 6/25
Sunday, 6/26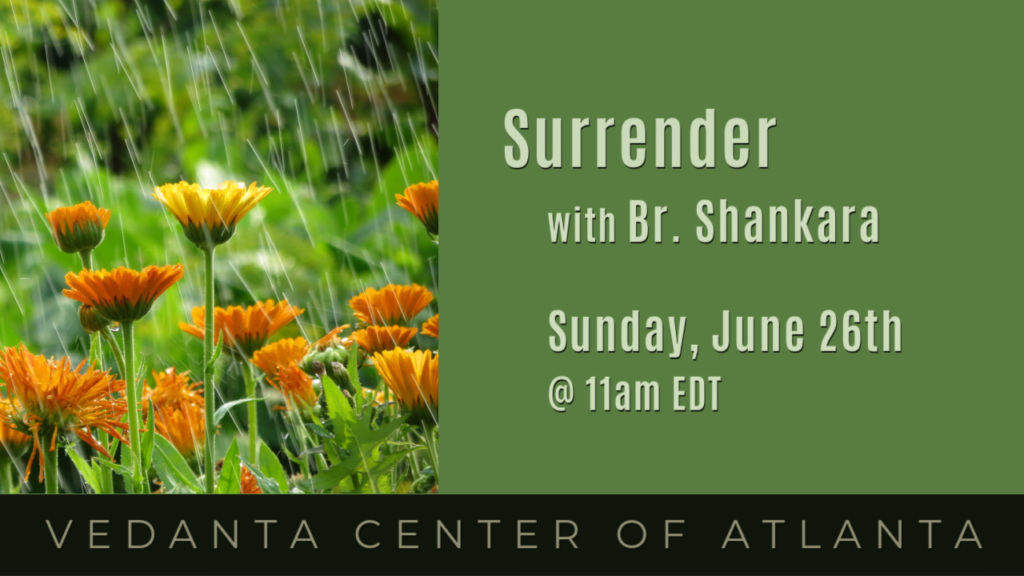 Join us in-person in the Chapel,
or via Zoom by clicking here.
This Sunday at 11am, Br. Shankara will give a talk entitled Surrender. Join us in the Chapel or on Zoom at 11:00am, and participate in the discussion! There will be coffee, tea, snacks and continuing fellowship in the Monastery following the talk until 1:30pm.
.
June is a month for study of Bhakti Yoga. A bhakti yogi (bhakta) establishes a devotional relationship with God through study, prayer, ritual, and worship. This often begins with a feeling of reverence or awe, which may slowly grow into a conviction that everything, without exception, manifests God's glory and grace. 
As a bhakta, you practice giving every action, thought, emotion, perception and tendency "a Godward turn." All your energies and attributes, both positive and negative, are offered to the Divine Presence. Your prayer is for self-surrender and, ultimately, union with your Belovèd.
…
You have a bucket of water. It can be emptied with an eye-dropper, a tablespoon, a dipper. Or you can take it to some thirsty plants and empty it all at once.
This is a way of talking about the spiritual progress of a bhakti yogi. At first, a bhakta's efforts to rid herself of limitation are themselves quite limited. Over time, they become more and more effective. Finally, the moment comes when, in an act of total surrender, all upadhis (limitations) are offered to her Belovèd.
This Sunday morning we will explore this more fully, discussing: 
Krishna's invitation, in Bhagavad Gita, to transformation

 

the Parable of the Prodigal Child, and

 

verses from Chaitanya's Prayer and Breaker of This World's Chain.
Subscribe to our eNewsletter
We'll let you know what's going on from week to week. We won't ever share your info. Unsubscribe anytime.
Remembering
Swami Yogeshanandaji
A collection of fond memories of our beloved Swami Y in photos and words, shared by devotees and friends.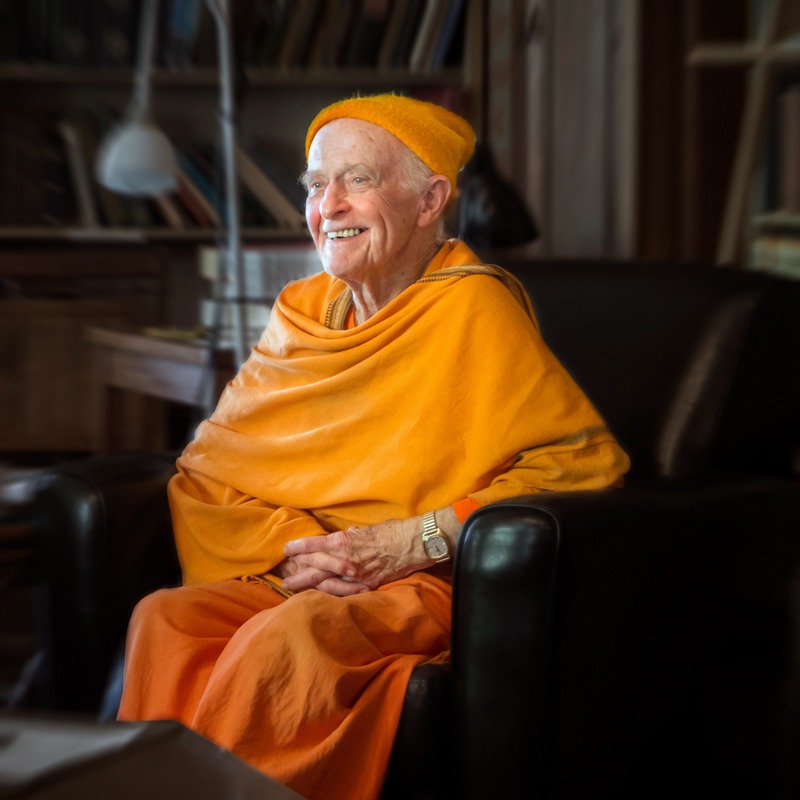 Click book covers for details about these and other recommended books.
These books are available in our Bookshop, at Vedanta.com, and elsewhere online.
"Where shall we go to find God if we cannot see Him in our own hearts and in every living being?"
~ Swami Vivekananda