Welcome to the Vedanta Center of Atlanta
We study Hinduism and Vedanta as taught by Sri Ramakrishna, Sri Sarada Devi, Swami Vivekananda, and Swami Brahmananda. Classes, talks, worship, meditation, fellowship, and special events throughout the year. All are welcome.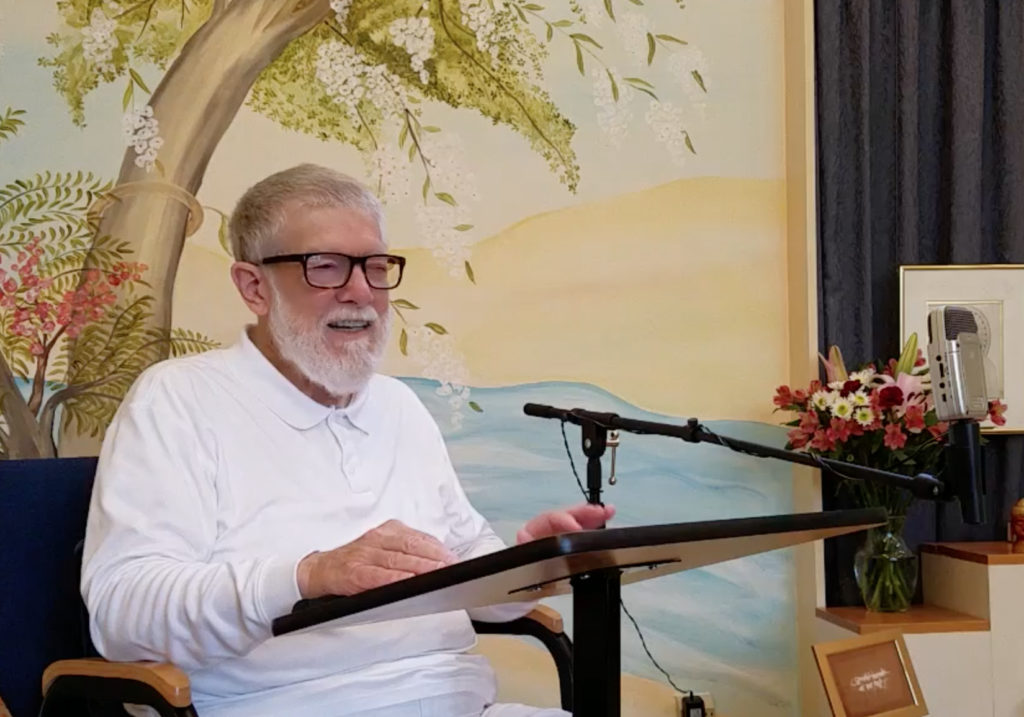 Thanks for visiting with us.
There is a lot to look at, listen to, and discover about Ramakrishna-Vivekananda Vedanta and this Center. Yet, if you don't find what you came for, click here to contact Br. Shankara, our Resident Minister.
Remembering
Swami Yogeshanandaji
A collection of fond memories of our beloved Swami Y in photos and words, shared by devotees and friends.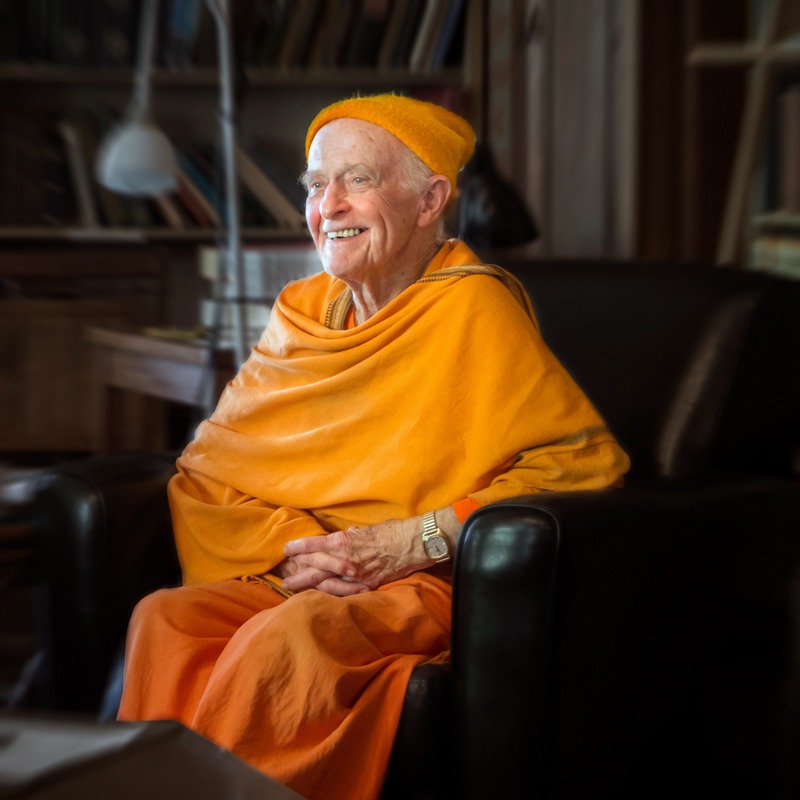 June 7 – 13
Use the Zoom link to log into the Zoom meeting;
no password need.
Monday
Tuesday
Wednesday
Thursday
Friday
Saturday
Sunday
A Few More Announcements
Please mark your calendar for this — our first face-to-face meeting as a congregation will be on Sunday, July 4th. We should all be fully vaccinated by then.
There will be TWO Seva Saturdays in June: the 19th and the 26th, to get your Center — outside and inside — ready to receive our congregation in style. For these two days and the 4th, those members who have been fully vaccinated will be welcome.
Subscribe to our eNewsletter
We'll let you know what's going on from week to week. We won't ever share your info. Unsubscribe anytime.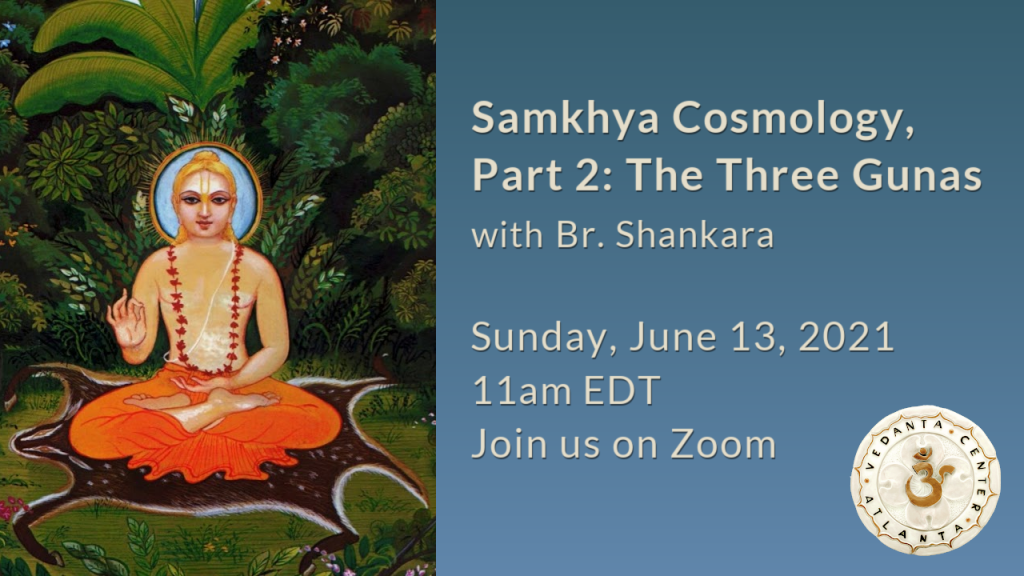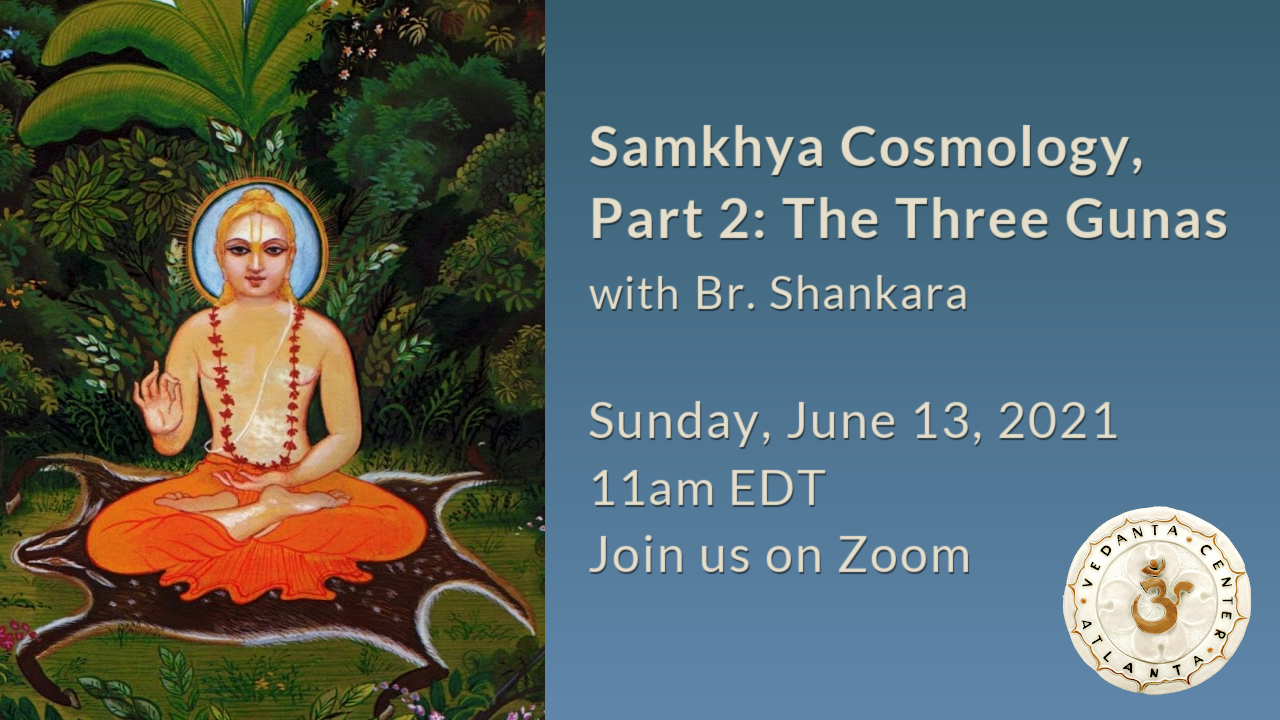 ~ Join us via Zoom ~

This Sunday morning at 11am Br. Shankara will give a talk on Samkhya Cosmology, Part 2: The Three Gunas. Join us online and participate in the discussion!
June is a month for study of Karma Yoga, a spiritual path leading to the abandonment of selfishness. As a karma yogi, you practice offering your actions and their results, as well as your perceptions, thoughts, and feelings to the Divine Presence.
Even before fully knowing this Presence, you hold firmly to the belief that the Presence is within each person or other living being that you interact with or serve. Working and abiding in this spirit, you are increasingly able to release attachment to your activities and their results. This yields the freedom and contentment promised by Karma Yoga.
"Even a little practice of this yoga will save you form the terrible wheel of rebirth and death …" — Sri Krishna, Bhagavad Gita, Ch. 2
Sunday June 13 11am-noon:
Samkhya Cosmology, Part 2
The Three Gunas
w/ Br. Shankara
In Bhagavad Gita, Sri Krishna's explanation of the four yogas — especially karma and raja yoga — is rooted in Samkhya Philosophy. The better you understand Samkhya, the more likely you are to make practical use of what He tells us.
Samkhya is a Sanskrit word that, roughly speaking, means counting. Krishna says that when you fully grasp the operations and functions of the three Gunas (sattwa, rajas, and tamas), you will be free of attachment, and therefore free of suffering. 
Sri Ramakrishna taught that Maya causes you to believe you are the doer, when in truth it is the Gunas, which are under God's control, that act. 
"God alone is the Doer. Everything happens by His will," Ramakrishna insisted. 
It only seems as if your actions, and the thoughts you think, are your own; the Upanishads, the Gita, and Ramakrishna teach that they are in fact God's thoughts and actions, expressed through the agency of the Gunas.
On Sunday morning we will explore the Gunas – their source, their effects, and their mesmerizing hold on our attention. We'll do this partly as a review of Samkhya's explanation of how Reality works, and as a discussion of what Sri Krishna tells us about the Gunas, in Bhagavad Gita.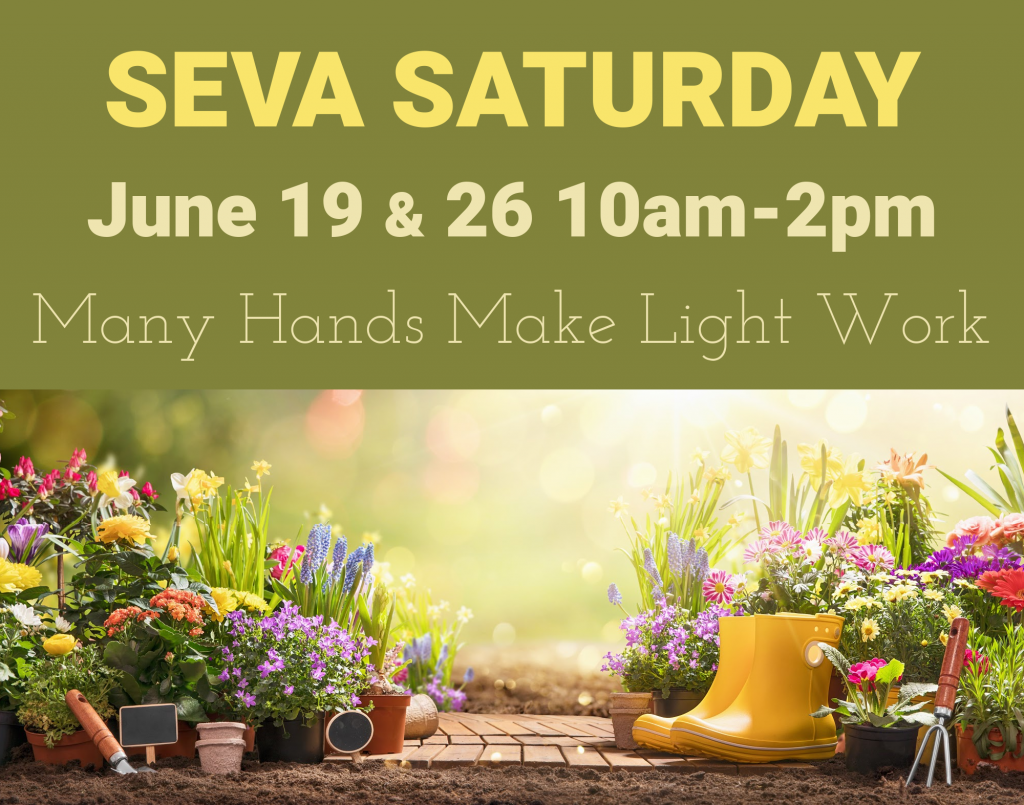 Seva means serving in the fellowship of volunteers, or Karma Yogis!
One Saturday per month (typically the Second Saturday, but confirm on our Calendar), please join fellow devotees and volunteers who help revitalize the Vedanta Center and keep the premises beautiful.
To all karma yogis considering Seva Saturday:
Seva Saturday begins at 10am and goes until 2pm. We break for lunch for an hour around 12:30pm (delicious vegetarian lunch provided). If you are unable to join us for the full four hours, please come and spend as much time as you can. We always have plenty of jobs indoors and outdoors for all ages and abilities!
Click book covers for details about these and other recommended books.
These books are available in our Bookshop, at Vedanta.com, and elsewhere online.
"Where shall we go to find God if we cannot see Him in our own hearts and in every living being?"
~ Swami Vivekananda