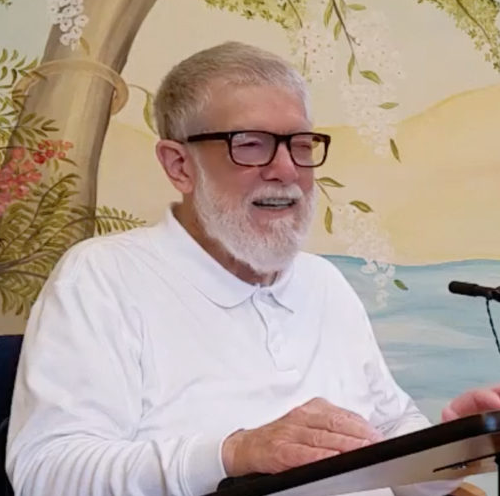 Welcome to the Vedanta Center of Atlanta
We study Hinduism and Vedanta as taught by Sri Ramakrishna, Sri Sarada Devi, Swami Vivekananda, and Swami Brahmananda. Classes, talks, worship, meditation, fellowship, and special events throughout the year. All are welcome.
Thanks for visiting with us.

There is a lot to look at, listen to, and discover about Ramakrishna-Vivekananda Vedanta and this Center. Yet, if you don't find what you came for,
click here
to contact Br. Shankara, our Resident Minister.
Remembering
Swami Yogeshanandaji
A collection of fond memories of our beloved Swami Y in photos and words, shared by devotees and friends.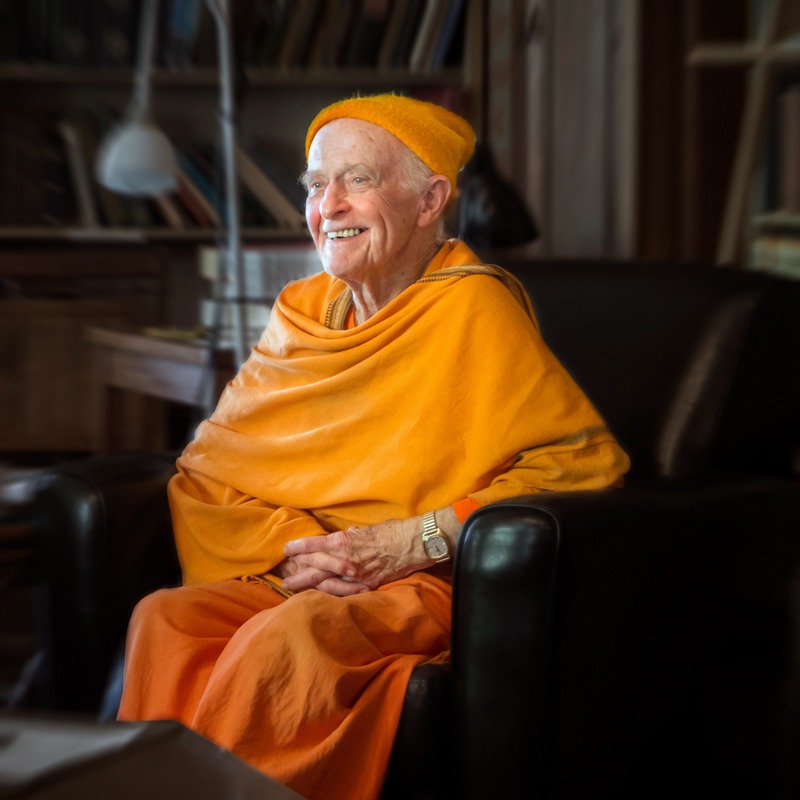 Dec 20-26
Activities are

online only

via Zoom
Use the Zoom link to log into the meeting; no password need.
Monday, 12/20
Tuesday, 12/21
Wednesday, 12/22
Thursday, 12/23
Friday, 12/24
Saturday, 12/25
Sunday, 12/26
A Few Announcements
Please mark your calendar for this — our first face-to-face meeting as a congregation will be on Sunday, July 4th. We should all be fully vaccinated by then.
There will be TWO Seva Saturdays in June: the 19th and the 26th, to get your Center — outside and inside — ready to receive our congregation in style. For these two days and the 4th, those members who have been fully vaccinated will be welcome.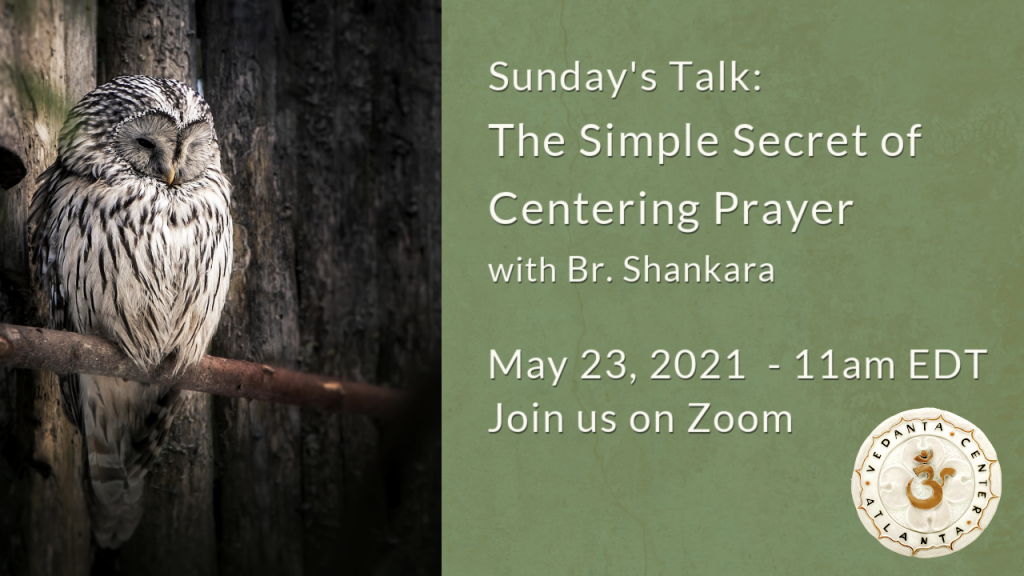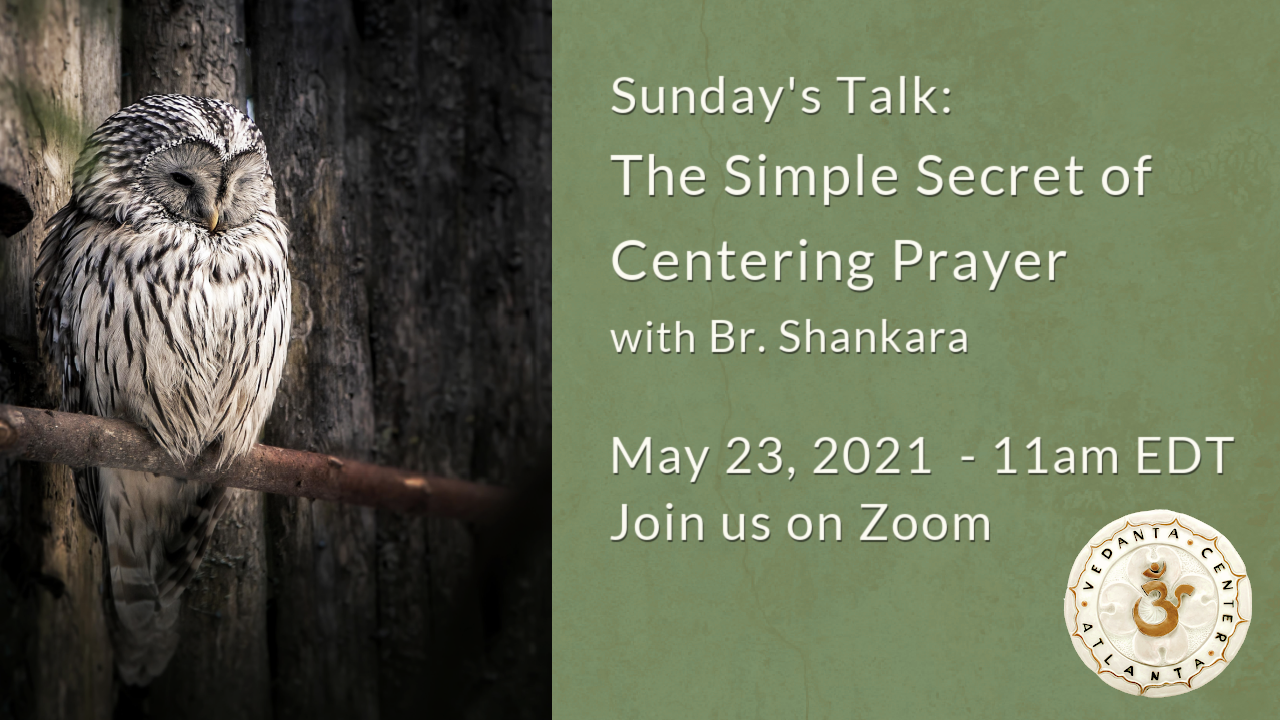 ~ Join us via Zoom ~
This Sunday morning, May 23, from 11am-noon, Br. Shankara's will speak on "The Simple Secret of Centering Prayer." Join us online and participate in the discussion!
May is a month for study of Bhakti Yoga. A bhakti yogi (bhakta) has a devotional relationship with God . This is developed over time by study, prayer, ritual, and worship. As a bhakta, you practice giving every action, thought, emotion, perception and tendency "a Godward turn." Everything you are, both positive and negative, is offered to the Divine Presence.
Your prayer is for the carefree self-surrender of a child in its Mother or Father's arms and, finally, union with your Belovèd. In that state, no barrier of ego remains — the devotee becomes one with the Divine Presence in all-embracing love.
"O Thou who stealest the hearts of Thy devotees, do with me what Thou wilt, for Thou art my heart's belovèd, Thou and Thou alone."
— from Chaitanya's Prayer
Centering prayer is a method of contemplative prayer or Christian meditation. Its strongest emphasis is on a practice of interior silence, within the heart.
Scholars see the beginnings of centering prayer among early Christian monastics known as Desert Fathers and Mothers. Much later, it is found in the Lectio Divina tradition of Benedictine monasticism, in books like The Cloud of Unknowing, and the writings of St. Teresa of Avila and St. John of the Cross. 
Centering Prayer as it is practiced today was introduced by books published in the 1970s by three Trappist monks of St. Joseph's Abbey in Spencer, Massachusetts: Fr. William Meninger, Fr. M. Basil Pennington, and Abbot Thomas Keating.
This Sunday morning we will explore and discuss the simple and direct teachings of a monk who became the most widely recognized spokesperson for centering prayer — the late Father Thomas Keating.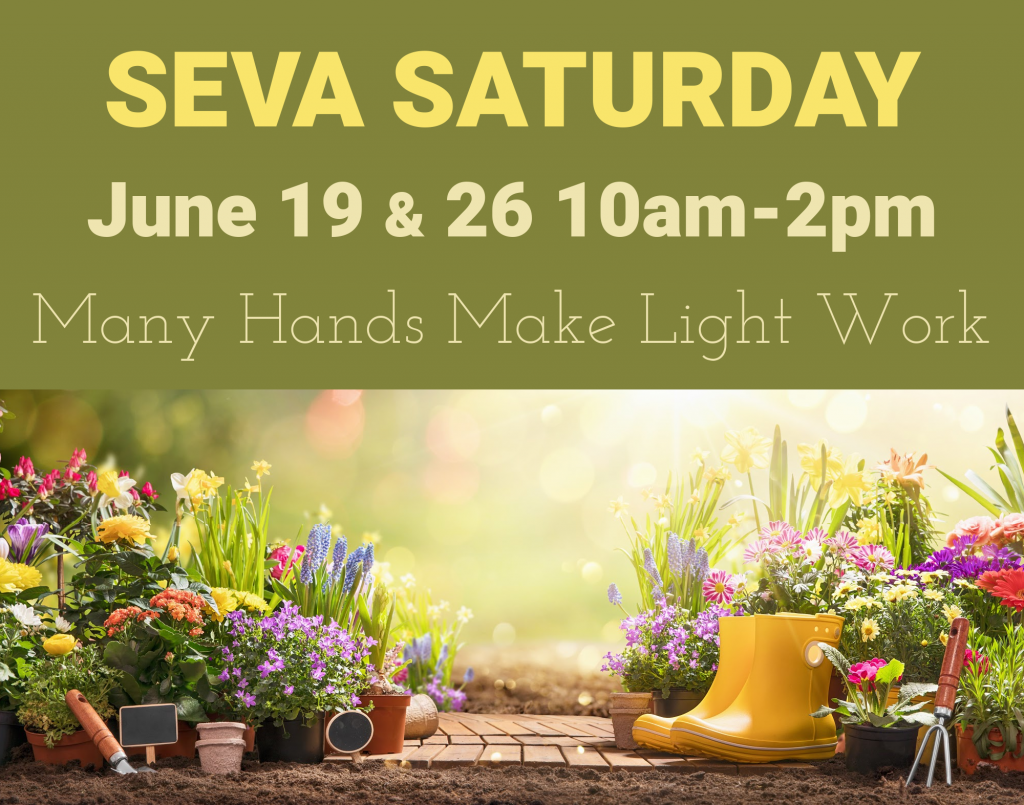 Seva means serving in the fellowship of volunteers, or Karma Yogis!
One Saturday per month (typically the Second Saturday, but confirm on our Calendar), please join fellow devotees and volunteers who help revitalize the Vedanta Center and keep the premises beautiful.
To all karma yogis considering Seva Saturday:
Seva Saturday begins at 10am and goes until 2pm. We break for lunch for an hour around 12:30pm (delicious vegetarian lunch provided). If you are unable to join us for the full four hours, please come and spend as much time as you can. We always have plenty of jobs indoors and outdoors for all ages and abilities!
Click book covers for details about these and other recommended books.
These books are available in our Bookshop, at Vedanta.com, and elsewhere online.
"Where shall we go to find God if we cannot see Him in our own hearts and in every living being?"
~ Swami Vivekananda