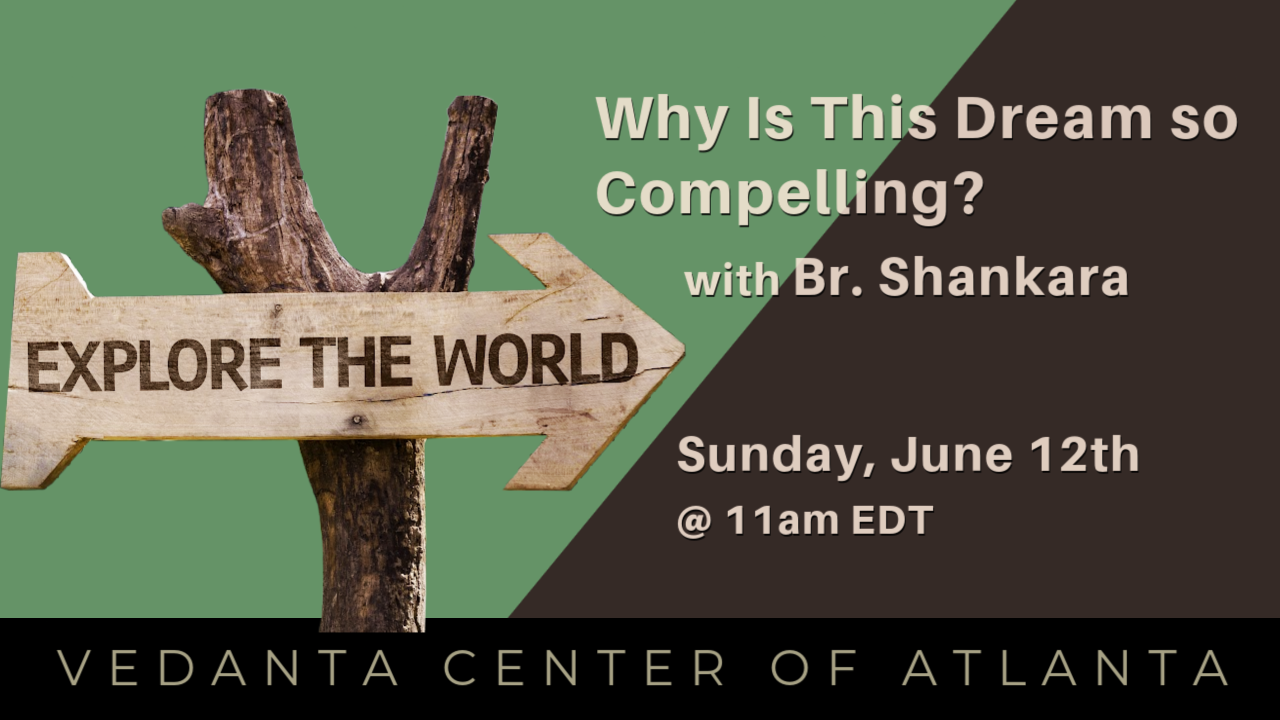 11am Sunday Talk: Why Is This Dream so Compelling?

 with Br. Shankara
On Sunday June 12 at 11am, Br. Shankara will give a talk entitled Why Is This Dream so Compelling? Join us in the Chapel or on Zoom at 11:00am, and participate in the discussion! There will be coffee, tea, snacks and continuing fellowship in the Monastery following the talk until 1:30pm.
.
June is a month for study of Bhakti Yoga. A bhakti yogi (bhakta) establishes a devotional relationship with God through study, prayer, ritual, and worship. This often begins with a feeling of reverence or awe, which may slowly grow into a conviction that everything, without exception, manifests God's power and grace. 
As a bhakta, you practice giving every action, thought, emotion, perception and tendency "a Godward turn." All your energies and attributes, both positive and negative, are offered to the Divine Presence. Your prayer is for self-surrender and, ultimately, union with your Belovèd.
…
"You were born to the infinite,
and within your heart is all of love —
so start giving it away.
If you ask for anything in return
your ocean becomes a drop.
From the highest god to this worm
and beyond, to the atoms in the stars,
everywhere the same God loves all.
Friend, lay your mind, soul and body
at their feet.
He is in front of you right now,
and the different forms He's taken;
if you turn away from them,
where will you find Him?
The first to love all beings
without thinking
worships God."
— Swami Vivekananda, from his "Letter to a Friend," written in Bengali, interpreted here by Peter Schneider.
A bhakta who knows the Divine Presence might respond, "Yes, well said!"
But the Swami also insisted that our life in Maya is a kind of dream — how will the bhakta reconcile these two statements? Perhaps she will think of yet another Swamiji quote:
"The whole universe is one. There is only one Self in the universe, only One Existence." And therefore, even the dreamlike nature of her life must be part of that oneness.
Or, as Swami Yogeshananda put it,"Consciousness is primary and is not plural." Consciousness, Divine Presence, the Self, Existence, God, all one and the same. Which leads directly to Swami Prabhavananda's instruction, "Give everything a Godward turn."
These are the ideas that we will discuss on Sunday morning.