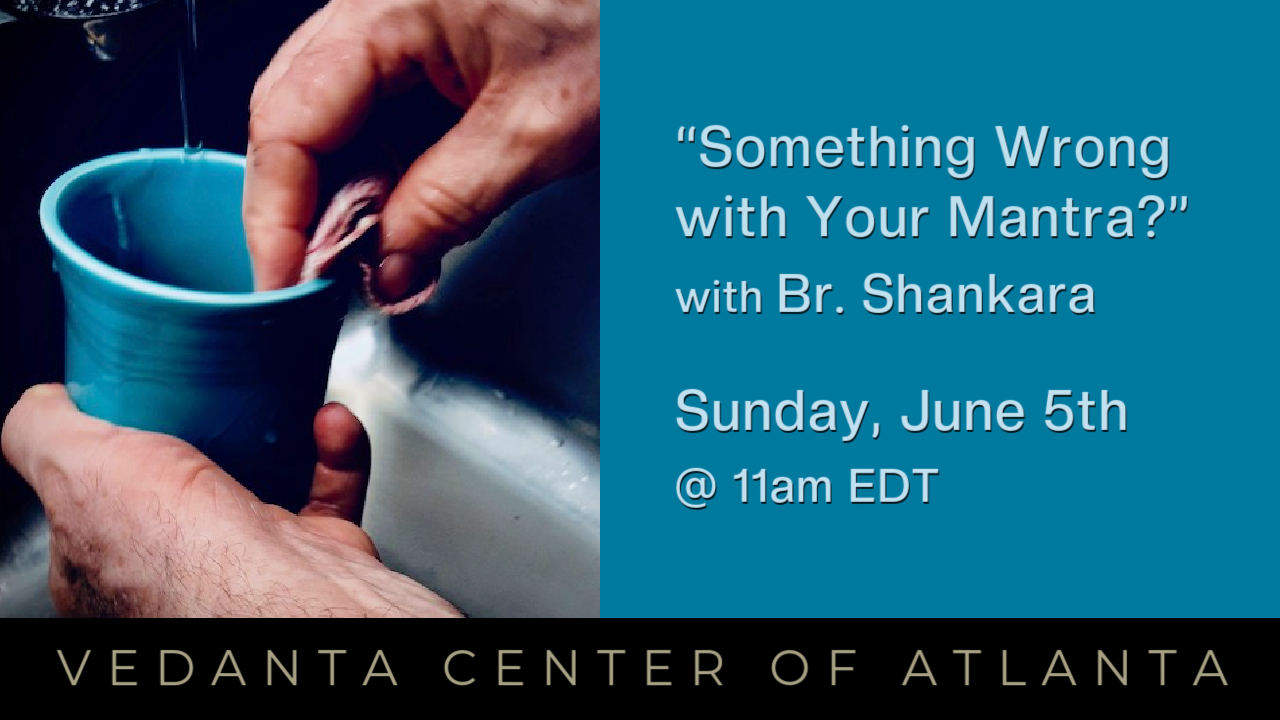 11am Sunday Talk: "Something Wrong with your Mantra?"

 with Br. Shankara
On Sunday at 11am, Br. Shankara will give a talk entitled "Something Wrong with Your Mantra?" Join us in the Chapel or on Zoom at 11:00am, and participate in the discussion! There will be coffee, tea, snacks and continuing fellowship in the Monastery following the talk until 1:30pm.
.
June is a month for study of Bhakti Yoga. A bhakti yogi (bhakta) establishes a devotional relationship with God through study, prayer, ritual, and worship. This often begins with a feeling of reverence or awe, which may slowly grow into a conviction that everything, without exception, manifests God's power and grace. 
As a bhakta, you practice giving every action, thought, emotion, perception and tendency "a Godward turn." All your energies and attributes, both positive and negative, are offered to the Divine Presence. Your prayer is for self-surrender and, ultimately, union with your Belovèd.
…
One morning, while drying breakfast dishes in the kitchen of the Hollywood Monastery, a monk began grumbling. Soon, others joined in.
Swami Krishnananda was washing dishes at the main sink with his back to the grumblers. After a few moments the swami slowly turned, leveled a gaze at the lead complainer, and asked, "Something wrong with your mantra?"
Krishnananda was a disciple of and personal assistant for Swami Prabhavananda. He knew, and came to embody, the power of the mantra his guru had given him. It was said that he was always chanting it, "under his breath," so to speak. His reminder to the younger monks that morning, while sharp, was well meaning: He wanted them to share the joy and wisdom that comes from chanting the name of the Lord unceasingly. This Sunday morning we will discuss this incident, and other aspects of the mantra as one of the greatest spiritual gifts you can receive.