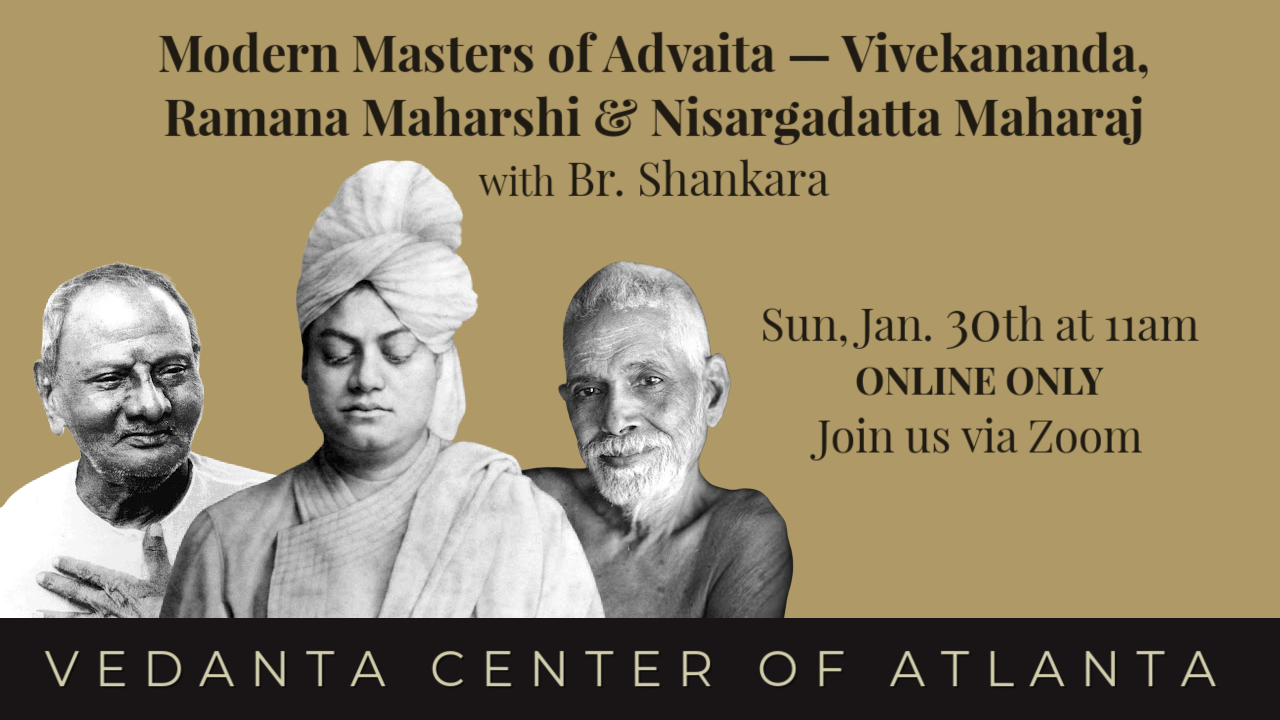 Sunday Talk: Modern Masters of Advaita, with Br. Shankara
On Sunday morning, Jan. 30th at 11am, Br. Shankara will give a talk on "Modern Masters of Advaita — Vivekananda, Ramana Maharshi & Nisargadatta Maharaj."
Click here to join us via Zoom and participate in the discussion!
January has been a month for study of Jnana Yoga (advaita vedanta). As a jnana yogi, you practice discrimination, reason, detachment, and satyagraha (insistence on Truth). The goal is freedom from limitation (moksha). Our teachers say that all miseries in life are caused by seeing inaccurately. An earnest and persistent jnani may break through this misapprehension (maya) and see only the Divine Presence everywhere, in everything and everyone.
Sunday January 30 2022 11am – noon
Modern Masters of Advaita — Vivekananda, Ramana Maharshi & Nisargadatta Maharaj
Our current beliefs are the operating system for a life within maya. They reveal the level of our ignorance, and how we cope with what arises — nothing more than that. Learning higher practical and spiritual beliefs is said to be auspicious, because they cause fewer agitations in the mind. Yet, "… fetters, though of gold, are not less strong to bind," wrote Swami Vivekananda.
This Sunday morning we will discuss the lives and teachings of three great masters of the non-dual path. All of them lived "outside" the grip of maya, and all taught in the 20th Century.
We'll start by reviewing short biographies of Swami Vivekananda (we celebrated his lunar calendar birthday last Sunday), Ramana Maharshi, and Nisargadatta Maharaj. 
Next, we'll compare and contrast what they taught about four important principles and practices of advaita vedanta: discrimination, detachment, concentration, and insistence on Truth.
Then, we'll practice 10 minutes of silence. Sunday's meeting will end with an open forum on non-dualism. Pease gather your thoughts on that subject — we'd like to hear from you!