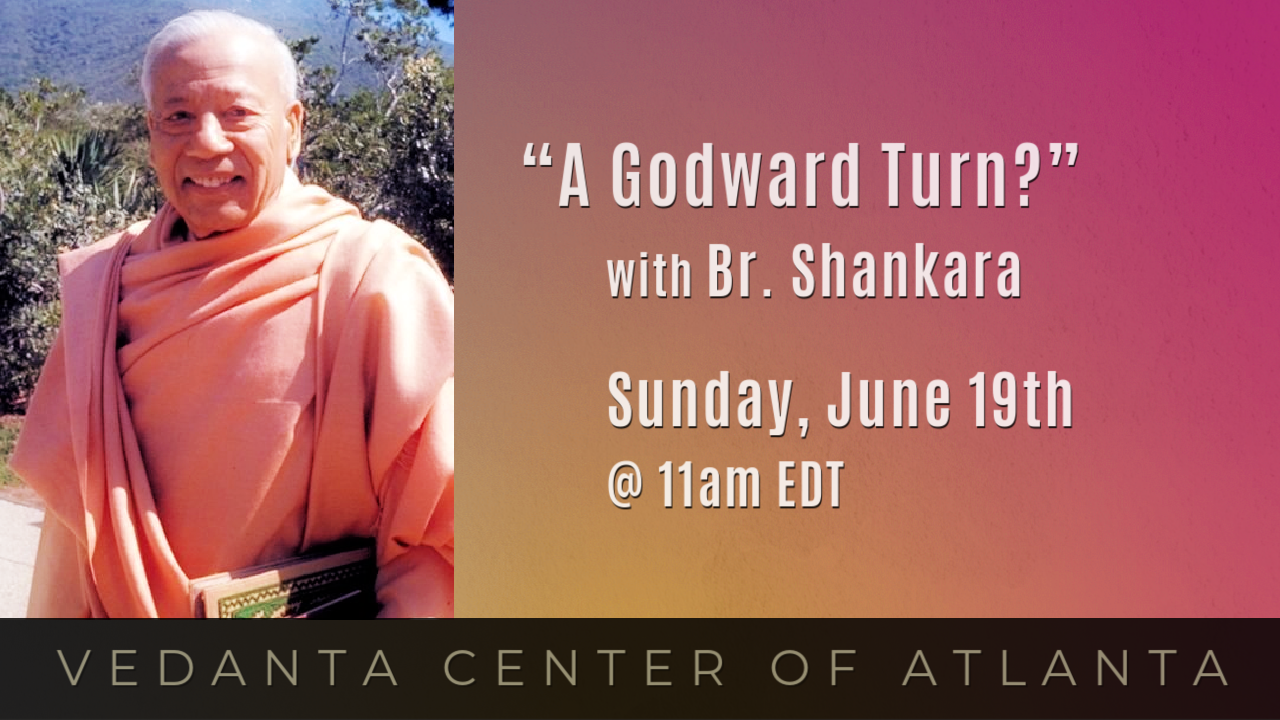 11am Sunday Talk: "A Godward Turn?"

 with Br. Shankara
On Sunday at 11am, Br. Shankara will give a talk entitled "A Godward Turn?" Join us in the Chapel or on Zoom at 11:00am, and participate in the discussion! There will be coffee, tea, snacks and continuing fellowship in the Monastery following the talk until 1:30pm.
June is a month for study of Bhakti Yoga. A bhakti yogi (bhakta) establishes a devotional relationship with God through study, prayer, ritual, and worship. This often begins with a feeling of reverence or awe, which may slowly grow into a conviction that everything, without exception, manifests God's glory and grace. 
As a bhakta, you practice giving every action, thought, emotion, perception and tendency "a Godward turn." All your energies and attributes, both positive and negative, are offered to the Divine Presence. Your prayer is for self-surrender and, ultimately, union with your Belovèd.
…
"When the mind is freed from 'woman and gold', it can be directed to God and become absorbed in Him. It is the bound alone who can be freed. The moment the mind turns away from God, it is bound. When does the lower needle of a pair of scales move away from the upper one? When one pan is pressed down by a weight. 'Woman and gold' is the weight." — Gospel of Sri Ramakrishna, Vol 2 Ch 6, With Various Devotees
Q: "Master Wu Hsin, I feel that I am changing, improving, closer to my goal. What can I do to give more speed to this?"
A: "Can you fold the sky?
Do not be homesick for a home you never left.
Abiding in Being Conscious is more than mere intellectual accomplishment. The seeker must dissolve."
As we discussed last week, Consciousness, Divine Presence, the Self, Existence, God, the life you live, all one and the same. Which leads directly to the logic of Swami Prabhavananda's instruction, "Give everything a Godward turn."
This Sunday morning we will explore more fully what this instruction means to a devotee of the bhakti (devotional) path.