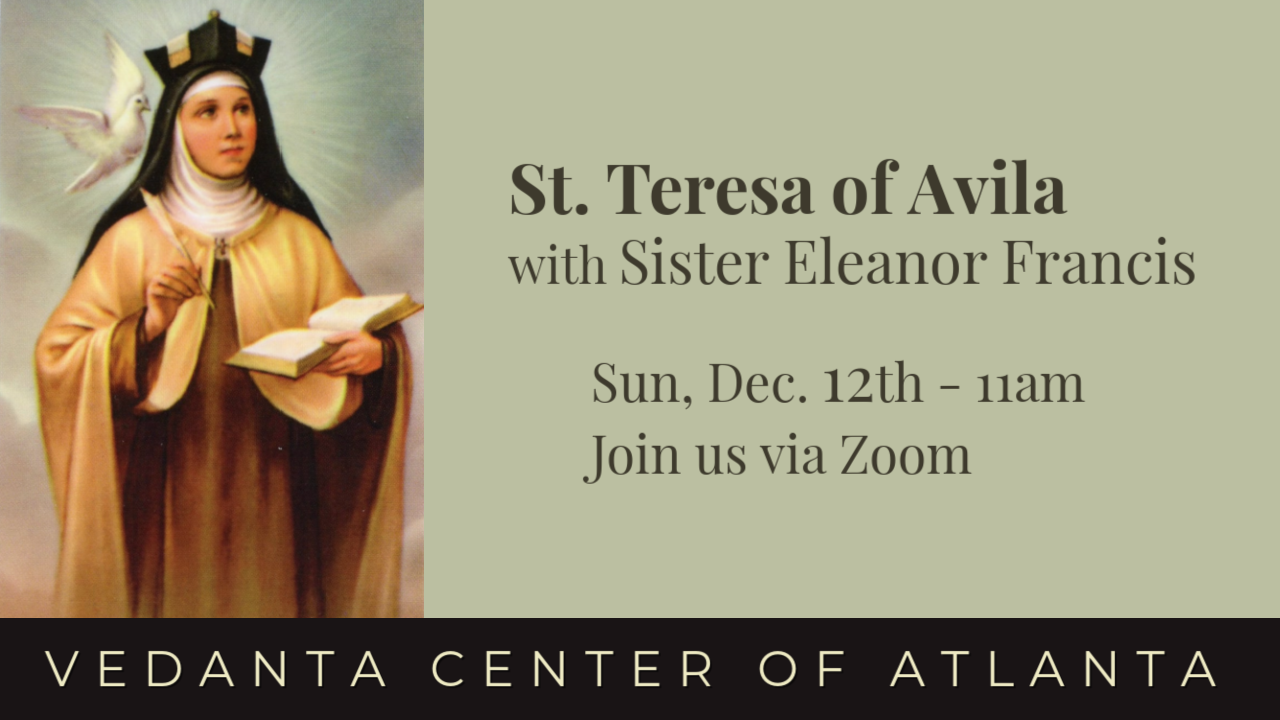 Sunday Talk: St. Teresa of Avila, with Sister Eleanor Francis
 ~ Join via Zoom at https://tinyurl.com/y7veshzt ~
On Sunday morning, Dec. 12th at 11am, special guest Sister Eleanor Francis will give a talk on St. Teresa of Avila. Join us online (no in-person activities at this time) and participate in the discussion!
St. Teresa of Avila (1515-1582)  
"Teresa of Avila is undoubtedly the most influential saint in the Western world, and she has made great contributions to spiritual literature and poetry.  She was a woman of tremendous courage who is rightfully credited with the remarkable political and religious reform achieved against the strongest—and most insidious—chauvinistic forces.
"A realistic picture of Teresa's life did not even reach the English-reading general public until the 1960s.  She was known to have had a remarkable quick wit and a stunning, even provocative, sense of humour, as well as a great physical beauty.  Her complete works include seven books, four hundred and fifty letters, and assorted poetry.  Her writings are considered masterpieces of mystical prose and verse. She personally founded seventeen Carmelite convents and two monasteries, despite enormous opposition from the Church and other men in power." — from a brief biography by Daniel Ladinsky, in his book "Love Poems from God"
.
Sister Eleanor Francis is a member of Community of St. John Baptist, a community of nuns within the Episcopal Church. They desire to bear witness to the light of Christ, cherishing him in their hearts, and revealing him to others. The community is strengthened by Oblates, Associates and friends around the world. They also are connected in ministry to St. Mark's Episcopal Church in Mendham, NJ.