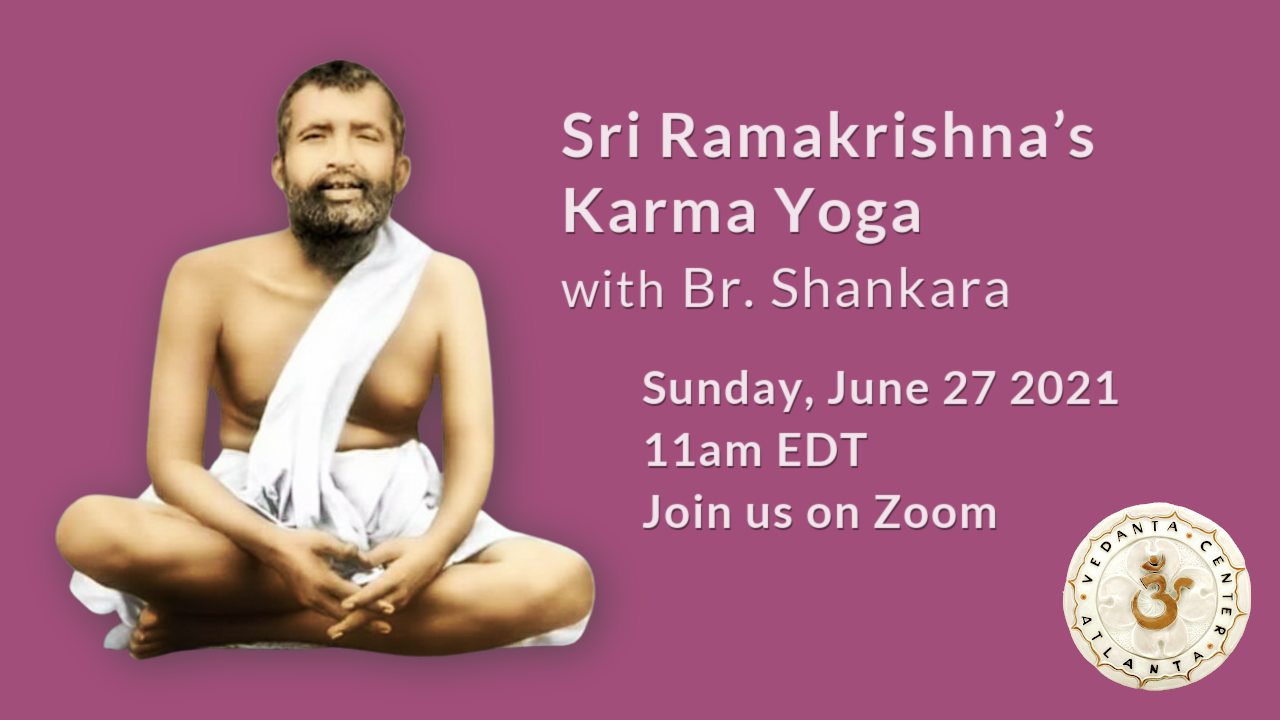 11am Sunday Talk: Sri Ramakrishna's Karma Yoga, with Br. Shankara
» Zoom (click to access meeting)
This Sunday morning at 11am Br. Shankara will give a talk on Sri Ramakrishna's Karma Yoga. Join us online and participate in the discussion!
June has been a month for study of Karma Yoga, a spiritual path leading to the abandonment of selfishness. As a karma yogi, you practice offering your actions and their results, as well as your perceptions, thoughts, and feelings to the Divine Presence. 
Even before fully knowing this Presence, you hold firmly to the belief that the Presence is within each person or other living being that you interact with or serve. Working and abiding in this spirit, you are increasingly able to release attachment to your activities and their results. This yields the freedom and contentment promised by Karma Yoga.
"Even a little practice of this yoga will save you form the terrible wheel of rebirth and death …" — Sri Krishna, Bhagavad Gita, Ch. 2 
Manifestation! Manifestation means making that which is potential (unknown and passive), actual (evident and active). This is the goal of all our spiritual practices. Swami Vivekananda said, "Manifest the divinity within you and everything will be harmoniously arranged around it." From one point of view, the degree of that manifestation is the most significant difference between one human being and another. 
From the Gospel of Sri Ramakrishna, Chapter 22: Saturday, May 24, 1884
MASTER (to the devotees): "I want to tell you something. A change has been coming over my nature. …
"You are devotees. I have no hesitation in telling you this. Nowadays I don't see the Spirit-form of God. He is revealed to me in human form. It is my nature to see the form of God, to touch and embrace Him. God is saying to me, 'You have assumed a body; therefore enjoy God through His human forms.'
"God no doubt dwells in all, but He manifests Himself more through man than through other beings. Is man an insignificant thing? He can think of God, he can think of the Infinite, while other living beings cannot. God exists in other living beings — animals, plants, nay, in all beings — but He manifests Himself more through man than through these others."
On Sunday we will explore and discuss what followed, as instructions for spiritual practice, from this change in the Master's view of us.