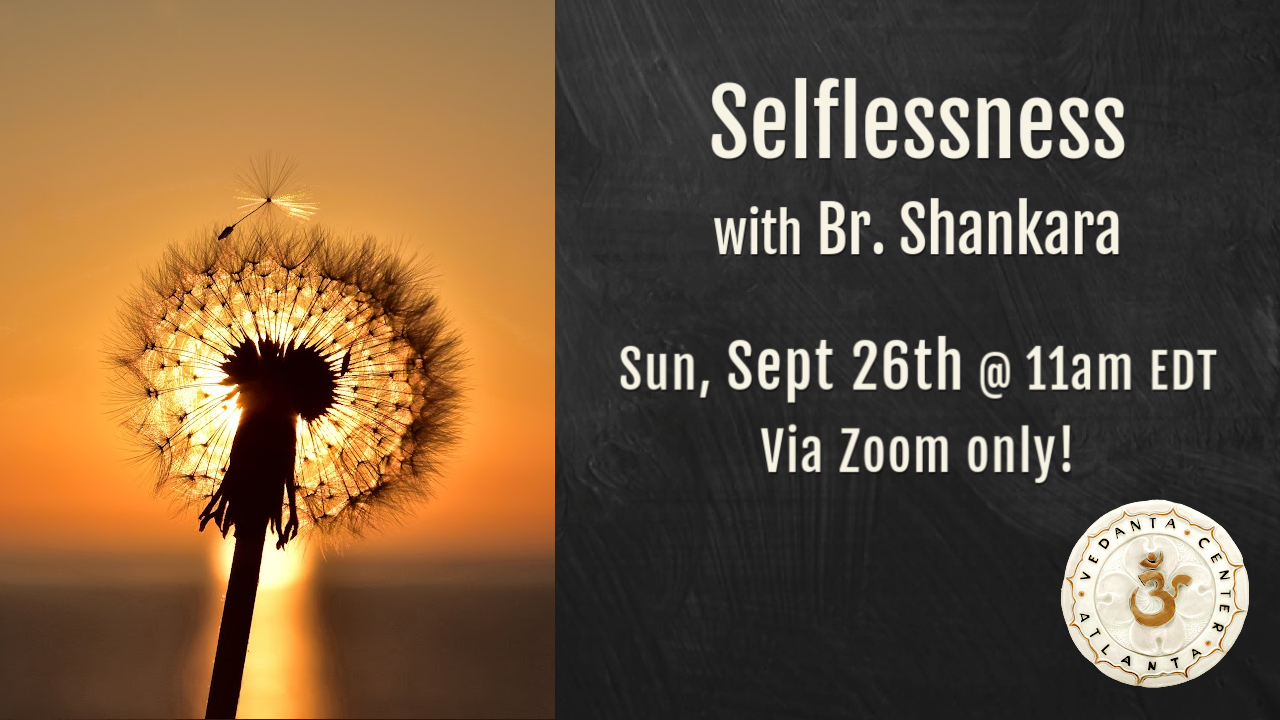 11am Sunday Talk: Selflessness, with Br. Shankara
 ~ Join via Zoom at https://tinyurl.com/y7veshzt ~
On Sunday morning, Sept. 26th at 11am, Br. Shankara will talk with us about Selflessness. Join us online (no in-person activities at this time) and participate in the discussion!
Finding reverence — abandoning selfishness — sinking into silence — setting aside the mirror
This month, we are discussing those four steps in spiritual practice, and how they integrate. Last week we looked closely at reverence. This week we take up selflessness.
Being, creating,
doing, sharing — the joys of
these are why we're here.
When you're truly tired of this,
just sign off and head for Home.
As a minister said recently, you have "dual citizenship," in this relative world and in the Eternal. To begin your journey Home, you need to take leave of your lower self, in the same sense you do when you are said to "die." "Die before you die," says the Koran.
If you are interested in this idea, you might naturally ask, "How?"
From Bhagavad Gita Chapter 6 — The Yoga of Meditation
"Let him who would climb
In meditation
To heights of the highest
Union with Brahman
Take for his path
The yoga of action:
Then when he nears
That height of oneness
His acts will fall from him,
His path will be tranquil.
For, when a man loses attachment to sense-objects and to action, when he renounces lustful anxiety and anxious lust, then he is said to have climbed to the height of union with Brahman."
These are Sri Krishna's words to his disciple Arjuna. He goes on to explain why the principles and practices of Karma Yoga — the yoga of action — are a way to achieve meditation, which is a reliable gateway Home (union with Brahman). We'll take up the rest of this lesson on Sunday.