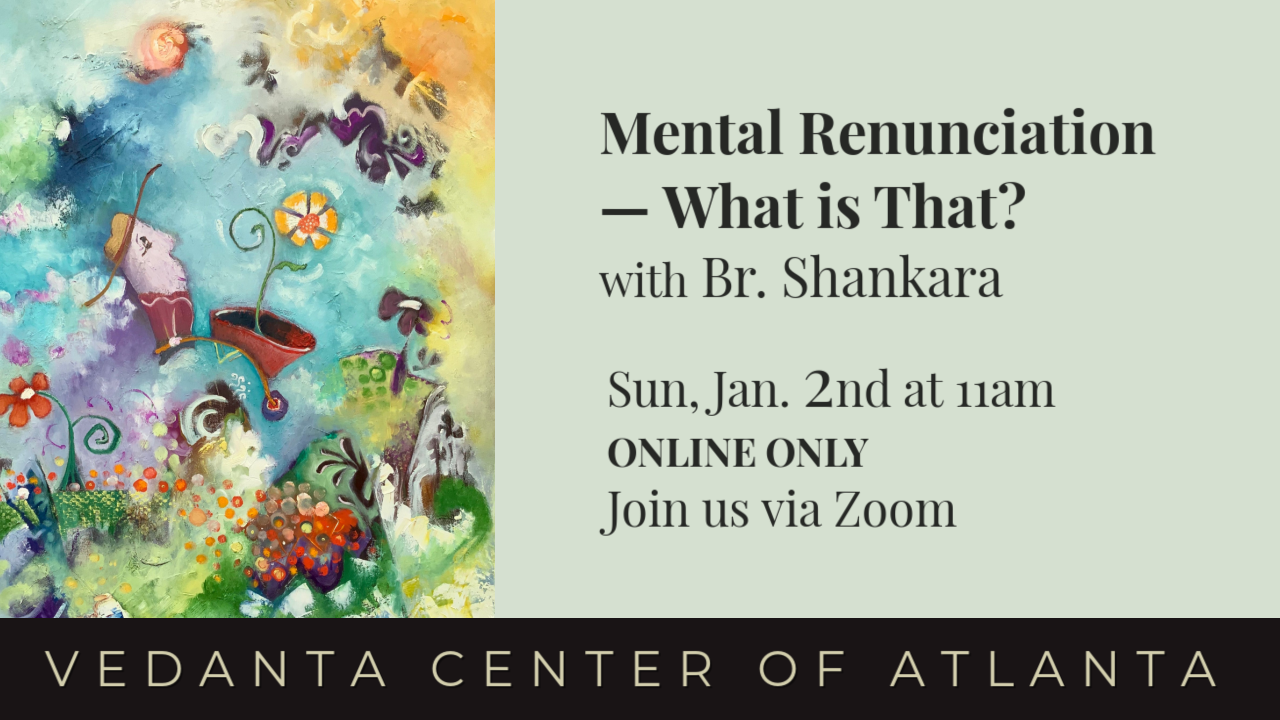 Sunday Talk: Mental Renunciation—What is That?, with Br. Shankara
 ~ Join via Zoom at https://tinyurl.com/y7veshzt ~
On Sunday morning, Jan. 2nd at 11am, Br. Shankara will give a talk on Mental Renunciation–What is That? Join us online (no in-person activities at this time) and participate in the discussion!
January is a month for study of Jnana Yoga (advaita vedanta). As a jnana yogi, you practice discrimination, reason, detachment, and satyagraha (insistence on Truth). The goal is freedom from limitation (moksha). Our teachers say that all miseries in life are caused by seeing inaccurately. An earnest and persistent jnani may break through this misapprehension (maya) and see only the Divine Presence everywhere, in everything and everyone.
.
Sunday's talk will define mental renunciation and how, if you wish, to make it part of your daily spiritual practice. 
Sri Ramakrishna often recommended this renunciation to householders. Yet, because the Master's devotional sadhana (spiritual journey) is so dramatic, his teachings on jnana yoga (the non-dual path) are sometimes obscured.
Sri Ramakrishna led his disciple Narendra Dutta (who became Swami Vivekananda) from an attitude of deep Western skepticism to a conviction that non-duality is the literal and most fundamental Truth.
Vivekananda said of Ramakrishna, "He's all bhakti (devotion) on the outside, all jnani (knower of Brahman) on the inside."  On Sunday morning, we'll discuss that "inner" Ramakrishna and his teachings on the householder jnani's path to freedom.