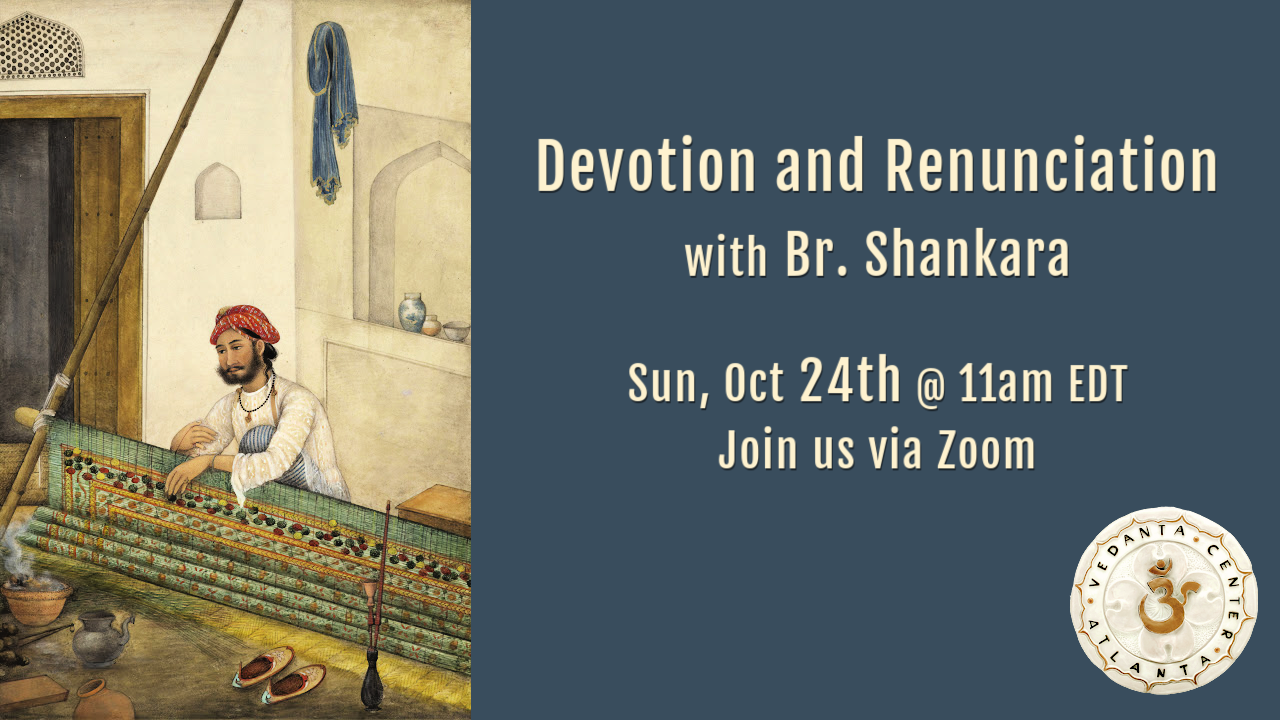 11am Sunday Talk: Devotion and Renunciation, with Br. Shankara
 ~ Join via Zoom at https://tinyurl.com/y7veshzt ~
On Sunday morning, Oct. 24th at 11am, Br. Shankara will talk about Devotion and Renunciation. Join us online (no in-person activities at this time) and participate in the discussion!
October is a month for study of Bhakti Yoga. A bhakti yogi (bhakta) has a devotional relationship with God . This is developed over time by study, prayer, ritual, and worship. As a mature bhakta, you enjoy seeing everything in the universe as the work and glory of your Divine Belovèd. This includes yourself, and so you give every action, thought, emotion, perception and tendency "a Godward turn." Your prayer is for the carefree self-surrender of a child in its Mother or Father's arms and, ultimately, union with your Belovèd.
Gospel of Sri Ramakrishna
Sunday, September 21 1884
A DEVOTEE: "How can a householder keep on with his worldly duties if he is overwhelmed by … bhakti-madness  … ?"
MASTER (looking at him): "There are two kinds of yogis, the 'revealed' and the 'hidden'. The householder may be a 'hidden' yogi. None recognizes him. The householder should renounce mentally, not outwardly. … But it is not good to force oneself into renunciation. …
… I say to people: 'Do this as well as that. Do your worldly duties and call on God as well.' I don't ask them to renounce everything. (With a smile) One day Keshab (Sen) was delivering a lecture. He said, 'O Lord, grant us that we may dive into the river of divine love and go straight to the Ocean of Satchidananda.' The ladies were seated behind the screen. I said to Keshab, 'How can you all dive once for all?' Pointing to the ladies', I said: 'Then what would happen to them? Every now and then you must return to dry land. You must dive and rise alternately.' Keshab and the others laughed."
On Sunday morning we will discuss the Master's instructions, and how they might work for you in this difficult and turbulent time.