Sunday, October 13, 2013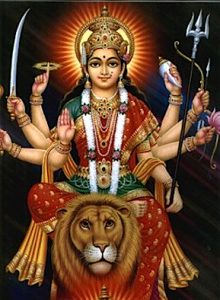 My Divine Mother is not only formless, She has forms as well. One can see Her forms. One can behold Her incomparable beauty through feeling and love. The Mother reveals Herself to Her devotees in different forms.
~ Sri Ramakrishna 

Swami Vivekananda said:
"Eternal, unquestioning self-surrender to Mother alone can give us peace. Love Her for Herself, without fear or favour. Love Her because you are Her child. See Her in all, good and bad alike. Then alone will come 'Sameness' and Bliss Eternal that is Mother Herself when we realise Her thus. Until then, misery will pursue us. Only resting in Mother are we safe."*
Devi Durga is the great goddess of India, the consort of Shiva, and she is worshiped in various forms that correspond to her two aspects — benevolence and fierceness. As our "sweet" Mother, she is Uma (light); Gauri (yellow or brilliant); Parvati (the mountaineer); and Jagatmata (the-mother-of-the-world). Her terrible forms are Durga (the inaccessible); Kali (the black); Chandi (the fierce); and Bhairavi (the terrible).
Durga Puja—worship of the Goddess over a period of nine days—is celebrated every year according to the Hindu calendar, in the month of Ashwin (September-October). Durga Puja also includes the worship of Shiva, who is Durga's consort (Durga is an aspect of Goddess Parvati), in addition to Lakshmi, Saraswati with Ganesha and Kartikeya, who are considered to be Her children.
Br. Shankara talks about Ma Durga and Her puja, and performs a short worship of the Mother.
*Complete Works, Volume 8: Notes of Class Talks and Lectures–Fragmentary notes taken on a Sunday afternoon in New York in June, 1900.