Your time on our website is invaluable. Please be sure to scroll down to the bottom of this home page. There is a lot to look at, listen to, and discover about Ramakrishna-Vivekananda Vedanta. Yet, if you don't find what you came for, click here to contact our Resident Minister, or to make an appointment if you'd like to meet with him.
Important News & Announcements
CHANTING THE DIVINE MOTHER'S NAME:
MESSAGE FROM SWAMI SARVADEVANANDA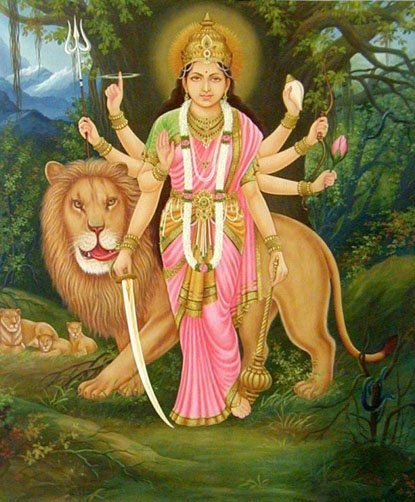 Dear Devotees and Friends,
My loving greetings and best wishes for you all.
Following the inspiration and foot steps of Revered Swami Swahanandaji Maharaj, we invite and encourage the devotees everywhere to pledge for extra "Jai Sri Durga" Japam during this coming auspicious Navaratri to Vijaya Dashami (20 to 30 September) of this year 2017.
The idea is to pledge a certain amount of Japam (repetition of a mantra) for each day, above one's regular number. This has at least two benefits:
1) It helps us to stretch ourselves to have a greater capacity for spiritual practice.
2) The spiritual energy produced and the merit that it brings for each 100,000 repetitions is equal to one Grand Durga Puja performance.
Though it is best to be as consistent to do japa everyday, as far as possible, yet if one gets behind the number pledged one day, one can make up that difference the next day.
Counting may be done by using a Mala (Rosary) or by tally counter or simply by observing how long it takes to do one thousand (thereby one does not have to focus on the counting but can know the number by watching the time only).
Mother's blessings,
Sarvadevananda
PS: Request from Br. Shankara —
 Please email me right away at shankara@vedantaatlanta.org, so I can let Swami Saravadevanandaji how many of our devotees are participating, and the amount of each devotee's pledge. Your cooperation with the Swami's request will be very much appreciated!
Tip from Br. Shankara: For most people, it will take five minutes to chant "Jai Sri Durga" 300 times (1 per second = 60 per minute times 5 minutes = 300). This calculation was suggested by Swami Swahanandaji.
---
'BUDDY, CAN YOU SPARE A CAR?'
You could be of great service to your Vedanta Center. The Center's car, a 21-year-old Honda Accord, needs replacement. After some routine maintenance last week, our mechanic said the Honda — at its age — is likely to need more, relatively expensive repair work within the next year or so.
This is our request: If you have an automobile you are no longer in need of that you would be proud for the Center to own, please consider donating it to us. Your gift to the Center is, of course, fully tax-deductible according to IRS regulations. Any car offered to us will be taken to our mechanic for evaluation, prior to acceptance.
Thank you for considering this request.
May you and yours be well and in bright spirits!
— Br. Shankara, Resident Minister
---
AND SPEAKING OF TRANSPORTATION…
Br. Shankara still needs volunteer drivers for Saturday afternoons to take him to and bring him back from the Athen's Class. Progessive macular degeneration makes it unsafe for him to make this drive on his own.
Please consider an occasional Saturday afternoon to serve in this way. We have a signup form on the website now so that you can pick the dates that are convenient for you. Click here for full details and signup form. Thank you in advance for your much needed and appreciated service!
---
Tai Chi and Qigong Class for Beginners
Thursdays from 7-8pm
Meets in the Fellowship Hall

This class is led by James 'Jim' Hamilton, an experienced instructor. Jim has taught Tai Chi for more than 20 years, from beginning to advanced levels, at Kaiser Permanente and elsewhere.
There is a modest fee – $15 per class – which Jim has offered to share with the Center. Class members are encouraged to commit to four weeks at a time in advance; exceptions can be made if necessary… just come and talk to Jim.
If you have any questions, please contact us.
---
American Vedantist* News

The theme of the upcoming Issue #72 – Fall 2017 is:
"Spiritual Life: Spiritual Life: How Do I Keep the Main Thing
the Main Thing in These Turbulent Times?" 
Click here for more information.
If you would like to receive an email notification when the next American Vedantist* (AV) e-magazine is published online, please click on this link: Sign up for AV Email Newsletter.
* American Vedantist is a not-for-profit online journal dedicated to developing Vedanta in the West and to facilitating companionship among Vedantists. Find out more at americanvedantist.org
---
This Sunday's Talk
September 24th, 11am-12noon
"Mother's Universe: Is It Real?"
w/ Br. Shankara
September is a month for study of Bhakti Yoga. As a yogi (bhakta), you establish a devotional relationship with God through study, prayer, ritual, and worship. You practice giving every action, thought, emotion, perception and tendency "a Godward turn."
All of your energies and attributes, both positive and negative, are offered to the Divine Presence. Your constant prayer is for complete self-surrender, in ecstatic union with your Belovèd.
Is what you perceive really "out there" — at your fingertips, so to speak? Is it a reality made of matter and energy, that your five senses grasp and correctly interpret? Or is it a projection you've learned to construct, based on sensory and super-sensory stimulation, memory, and other information?
For thousands of years, yogis have taught that the second explanation is much closer to the truth: You continuously and interactively create the particular universe in which you live. In the last century, many neuroscientists found reasons to agree. Some quantum physicists also read their findings as proof that all being arises from consciousness. These scientists believe that your continuity of experience, especially your sense of self as "bound," is a conditioned response — a learned behavior, a choice among possibilities.
Implications for you as a spiritual seeker are enormous: What you have learned, you can unlearn. You can, with practice, replace what you believe today with an ever-greater and more accurate experience of reality. You can move, as Swami Vivekananda said, from lesser truth to the highest truth.
On Sunday morning we will explore and compare the yogic and scientific explanations for self-awareness, and review what Vivekananda and Sri Ramakrishna taught about how you can realize your True Original Nature, or God.
Note: There is silent meditation in the Chapel from 10:30-11am, before each Sunday's talk. After the talk, devotees and friends meet in the Monastery from noon to 1:30pm, for tea, coffee, snacks and a continuation of our spiritual fellowship. Please join us!
Next Sunday's Talk
October 1st, 11am-12noon
Topic tba
w/ Br. Shankara
RECENT TALKS
» Visit our complete archive of talks.
---
REGULAR CLASS SCHEDULE
Monday Evening, 8-9pm:
The Upanishads: Breath of the Eternal
Meets in the Monastery Library — Reading and discussion by class members — Swami Prabhavananda's The Upanishads: Breath of the Eternal is available in the Center's Bookshop. Informal, no prerequisites, all are welcome! Class is led by Br. Shankara. (The Monday class recently finished studying the Bhagavad Gita.)
Tuesday Evening (ongoing class), 8-9pm:
Gospel of Sri Ramakrishna
Meets in the Monastery Library — Reading and discussion by class members — The Gospel is available in the Center's Bookshop. Informal, no prerequisites, all are welcome! Class is led by Br. Shankara.
NEW Wednesday Evening (ongoing class), 8-9pm:
Swami Vivekananda's Raja Yoga (Class began 8/2)
Meets in the Monastery Library. Reading and discussion by class members. Class is led by Br. Shankara.
Saturday Morning (ongoing class), 11am-12noon:
Swami Prabhavananda's Realizing God
Meets in the Monastery Library. Peer led study circle. Reading and discussion by class members. Informal, no prerequisites, all are welcome!
Saturday Afternoon (ongoing class, in Athens GA), 3-4:30pm:
Swami Prabhavananda's How to Know God
The text is How To Know God, Swami Prabhavananda's interpretation and commentary on Patanjali's Yoga Aphorisms, and is available. Books are available at the class. Informal, no prerequisites, all are welcome! Led by Br. Shankara. Meets at Body, Mind & Spirit of Athens, located at 3701 Atlanta Highway, Athen, GA. Phone (706) 351-6024 for more information.
---
REGULARLY SCHEDULED Events and Activities
We warmly welcome everyone to any regular weekly or special event at the Vedanta Center of Atlanta. You do not need an invitation. Our devotees and guests come from all walks of life and from every corner of the world. Please check our calendar or better yet, sign up to receive our e-newsletter, to stay in the know about all that's going on here at the Center. There is no charge for any of our classes, lectures, or in-town retreats.
WEEKLY
Sunday Meditation, Talk, and Fellowship
10:30 – 11:00 am
Personal, silent meditation. All are welcome to meditate or sit quietly.
11:00 am – 12:00 pm
Talks followed by Q&A and discussion.
12:00 pm – 1:30 pm 
After the talk, devotees and friends meet in the Monastery for tea, coffee, snacks and a continuation of our spiritual fellowship. Please join us!
See Calendar for details about any particular Sunday.
Evening Arati – 6:00 – 6:45 pm
Every evening except Sunday
Arati worship including a short period of chanting, song and prayer is followed by silent meditation. Everyone is welcome — come as is practical for you.
Classes – Mon, Tue, Wed evening & Sat morning (Tucker) & afternoon (Athens)
Please see our Calendar for details on classes, and watch for special class announcements in our newsletter.
Special Events and Activities
Please sign up for our email newsletter, and also check our Calendar regularly for special one-time events and activities, including:
Lectures by Swamis from other Vedanta centers
Guest speakers, in-house weekend retreats, and interfaith gatherings
Musical concerts and cultural programs
Annual General Meeting (typically held in March)
Your Center Needs You!

We need your help
Our Volunteer Opportunities signup form is online, just waiting for you to see what task you might enjoy. Find the page by clicking here.